Hi,
My first question is where is the correct place to post chromecast questions?
If I have a Naim question I can post it in the Audio products/Naim area. If I have an Airplay question then Audio products/Airplay.
Why no area for Chromecast?
I took delivery of a Riva arena speaker yesterday. I've been looking for a small speaker that could be-be used with roon and with issues reported with the bluesound PULSE FLEX 2I and the Riva costing £150 on Amazon it looked like a viable option.
The Riva currently supports chromecast /airplay and dnla.
Trying out the speaker using Chromecast I noticed that hires flac files (24 bit 96khz & 192khz) don't play via Roon. 24 bit 41&44 khz files play OK as do all 16 bit files.
Initially I suspected the Riva as I've played hires files via Chromecast on my Naim star and on my Naim QB (via Chromecast audio adapter). I switched to the tidal app selected a 24bit 192khz file and cast it to the Riva and it played with no issue.
Slightly suspicious that tidal might be doing something odd I then started up Asset UPnP on my nas and used it to play a 192khz file on the Riva ok.
At this point, I believe the Riva handles 192khz files via chromecast ok. I know Roon handles 192khz files over chromecast, but the two together seem unhappy.
I looked at the Roon signal path and could see some DSP conversion was taking place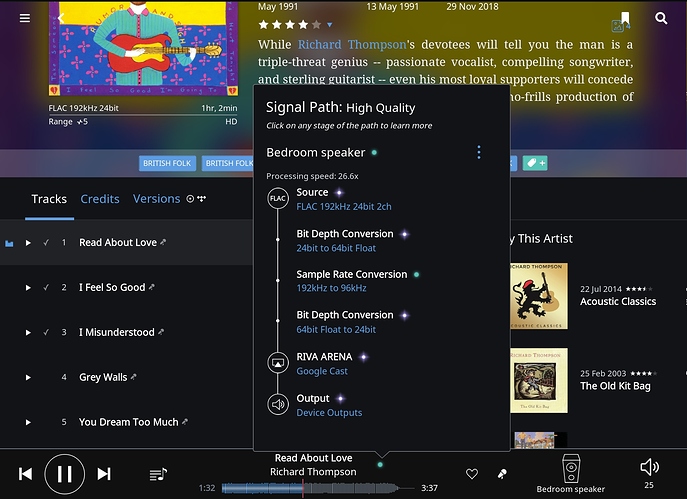 And this gave me an idea. I set up a custom DSP conversion path for this speaker so that anything above 44khz was converted to 44khz. I now get playback and can group the speaker

but I don't understand why I have to do this or where the problem lies?
Is this a Roon issue or a Riva issue?
Finally any contact from Riva regarding support for RAAT.
Thanks.