I've got a couple of questions about the "Launch at startup" option in Roon Server: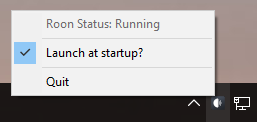 The above option shows up on the Windows version of Roon Server. Is the same option there on the OS X version of Roon Server?
I assume that it's not an option in the Linux versions of Roon Server - the server will always be launched when Linux starts up?
Thanks.