Hearing a click or pop in between every track on Qobuz & Tidal. Please advise.
Need more info. Many DACs make an audible noise when they switch between formats/resolutions. You should provide your equipment setup, network configuration, and anything else that you think might help us figure it out.
David Thx for checking in. Single Click/pop sound in between every track. Qobuz, Tidal, various playlists created from those services. With or without DSP. Doesn't discriminate! Maybe these screenshots will help? Your thoughts are welcome. It's very annoying when you spend time & money trying to get everything as good as it can. image|666x500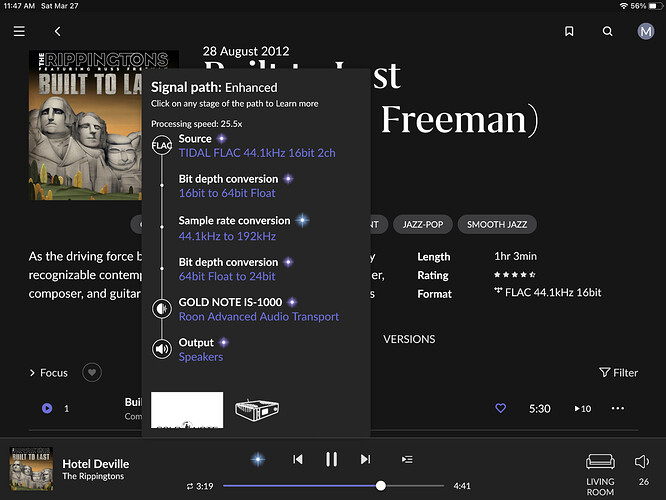 Click/Pop in between every track on Qobuz & Tidal. With or without DSP. Even on same CD. Doesn't matter. Set-up is FIOS>Router>Aqvox Switch>Nucleus+>Roon Ready Gold Note IS-1000 Integrated Amplifier. Hardwired Ethernet all the way.
Your setup looks fine, but I noticed you're upsampling. Have you tried experimenting with playback? Maybe no upsampling, maybe play to a different endpoint to see if the Gold Note is the issue. Do you have another DAC so you can bypass the Gold Note's internal DAC? It's not typical behavior for Roon to make any noise between tracks, so I would try and change the setup one thing at a time to try and isolate the issue.
Unfortunately no spare DAC. Gold Note IS-1000 is my workhorse & only Roon Endpoint. Disabling upsampling did not solve the pop between all tracks from Qobuz & Tidal. Ripped CD's from my collection sound fine. Hardwired ethernet all the way. Same issue with wi-fi.
The popping sound is not loud but it is audible from listening position 7ft away.
Hey @Mac_Finney,
I appreciate you getting in touch and sharing the issue you've ran into. While Roon subscribers are graciously trying to help, your post never notified our technical team. That only happens when the post is created in the Support category. I've just moved it there. You should hear back from one of our technicians.
In the meantime, could you please fill out the template below?
Core Machine (Operating system/System info/Roon build number)
TEXT GOES HERE
Network Details (Including networking gear model/manufacturer and if on WiFi/Ethernet)
TEXT GOES HERE
Audio Devices (Specify what device you're using and its connection type - USB/HDMI/etc.)
TEXT GOES HERE
Description Of Issue
TEXT GOES HERE
Thanks in advance

`[quote="Mac_Finney, post:1, topic:152628, full:true"]
Hearing a click or pop in between every track on Qobuz & Tidal. Please advise.
[/quote]
`Continuing the discussion from Click/Pop sound in between tracks:
Rebeka…these images may help. Everything connected by hardwired ethernet cables. My setup is Fios>router>aqvox se switch>Roon Nucleus+>Gold Note IS-1000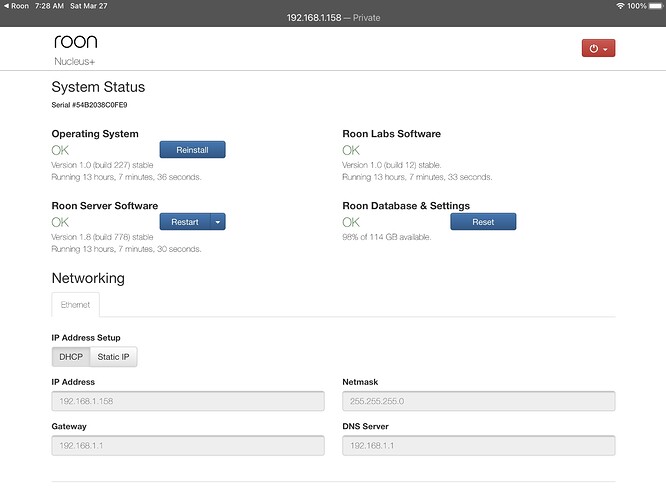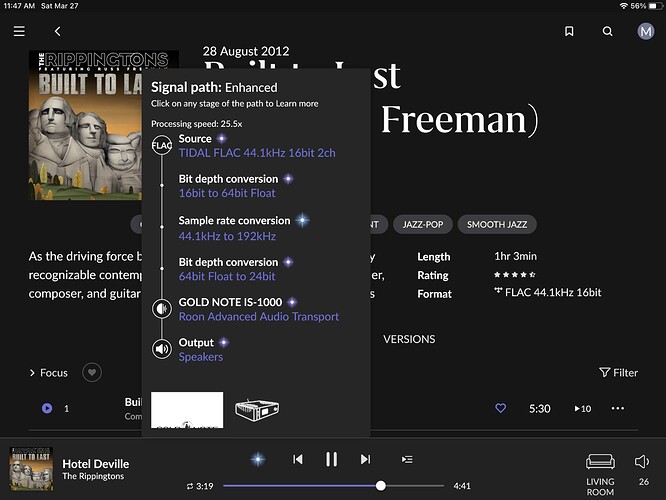 Roon ready integrated amplifier. Single pop occurs between every track via Qobuz & Tidal. Not loud but audible from listening position 7ft away. Does not occur when playing back ripped cd's from ext drive. Do not have spare DAC to try in case Gold Note is causing this. I have notified GN support in Italy & they are looking into this. Thank you, Mac Finney. div data-theme-slick="1">
Add images
![image|666x500](upload://cfSFdpk3UkJQUuhZKL2QrhiEpKQ.jpeg) ![image|666x500](upload://qNjoT2pgHGL6VZ5xtag55x1DF24.jpeg)
Hey @Mac_Finney,
Thanks so much for the additional details. I'm confident they will provide more of the context our technicians need to help.
Please, give us a bit more time to get back to you

Hello @Mac_Finney,
I wanted to follow up as soon as our technicians had a chance to take a look at this thread. They have gone through this thread and everything seems to Gold Note. Something may not be right on that end.
Do you think you'd be able to reach out to them and ask them to check on their end as well?
Thanks in advance

rebeka…this is from Gold Note Audio who makes my integrated amplifier. please pass along to your tech support team. thx, mac
Gold Note says…
"Actually is not typical but it could happen in some kind of track and file typology because the mute timing varies on the differ t codecs.
The software is under constant update so we will work on that."
Thanks for the update from them, @Mac_Finney! It's good to hear that it's something they're looking into.