Even with Roon as my server and front-end I'm still pretty fastidious where tagging is concerned, especially where an album involves an artist whose work I like to follow. I ordinarily specifically add such artists to the album tagging to ensure that I can locate the albums they've appeared in - often times the implication is that I've added metadata that doesn't exist natively in Roon because it's not included in the data provided by Rovi. However, where Roon identifies an album it then seems to ignore this additional metadata, despite importing it from the underlying file tags when ingesting the album. The end result is that albums that involve an artist don't appear when viewing an artist's work - not under Main Albums and not under Appearances.
To illustrate, Anja Lechner plays violoncello throughout François Couturier / Tarkovsky Quartet - Nuit Blanche and I've added her as artist and performer in my tags prior to ingesting the album in Roon, yet this album is not listed anywhere when browsing Anja Lechner as an artist.
Here are the underlying tags: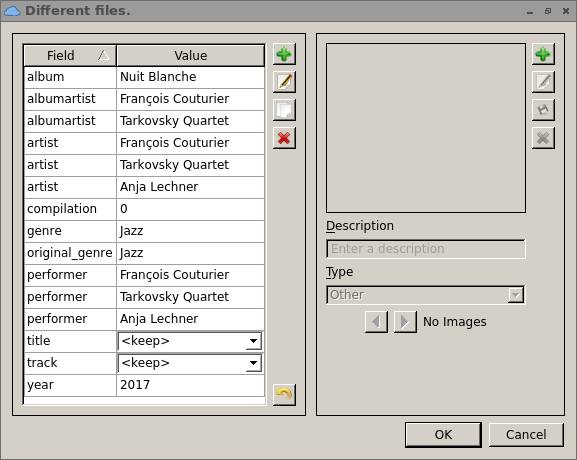 Here's what Roon's ingested: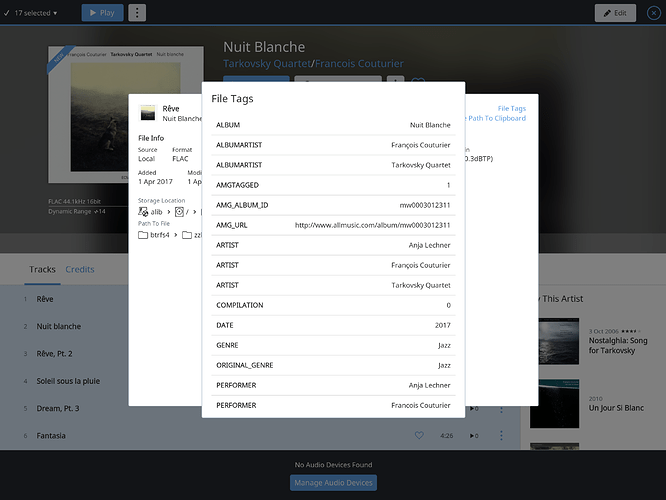 I must have 1000's of like instances scattered throughout my library. Please give consideration to merging Roon metadata with tag metadata (as a global option setting) much like is currently the case with Genre metadata.