I am running a Roon Nucleus +. I have only 3 zones in my house. In two zones there are Bluesound units, while my music room has a Mytek Manhattan II with Roon bridge. My music library is about 4TB. Roon accesses this data from a 8TB LaCie drive. The basic library is an iTunes file stored on a Drobo Raid device. This network is all connected by ethernet. Everything works well, and I am continually impressed by the robust features and performance of Roon.
In the last few days I have noticed changes in Roon meta data that concern me. I research both classical music and jazz. I also host a jazz radio show. And I find it important to have accurate meta data.
My first problem occurred with the album "Denzal Sinclaire":
Track 4. Where or When
composed by Richard Rogers, Lorenz Hart
Track 5. You and the Night And the Music
composed by Arthur Schwartz and Howard Dietz
Roon changed composers and showed all of the above 4 composers as composers for both songs. When I edited the information to delete the extraneous composers in each song the error was not corrected. Additionally, if I went to Track 4 and selected the command 'Go To Composition" it went to the song shown on track 5. Similarly, if I went to Track 5 and selected the command "Go To Composition" it went to the song shown on Track 4.
I tried switching the location of the songs within the album on my iTunes file, but the problem persisted. Eventually, I rebooted the Nucleus + and the problem was corrected.
However, I have found other composer errors which I could not correct through editing, or rebooting the Nucleus +. As an example lets look at a portion of the album "Scott Hamilton Plays Ballads"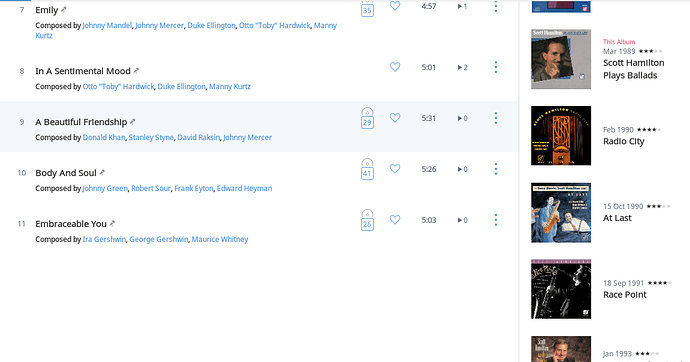 Track 7. Emily was composed by Johnny Mandel, Johnny Mercer. Roon has added in the composers from track 8. In A Sentimental Mood. When you go to "Emily" and hit "Go To Composition" you are taken to a list of songs "In A Sentimental Mood".
Track 9. A Beautiful Friendship was composed by Donald Khan, Stanley Stein. Roon has added in the composers from Track 5. Laura. Corrections aren't made and if you go to Track 9 and select "Go To Composition" it takes you to the song Laura.
Neither of these errors was correctable through editing or rebooting the Nucleus +
Track 11. "Embraceable You" is much more serious problem. The song was composed by George Gershwin and Ira Gershwin. I have about 26 versions of that song throughout my iTunes library, all showing the two composers.
Now, Roon has added in the name Maurice Whitney to every file. Maurice Whitney is not in my data base, nor are any songs he wrote. He was an American classical composer (now deceased) who wrote a transcription of "Embraceable You". Now each version of the song points in Roon to his transcription.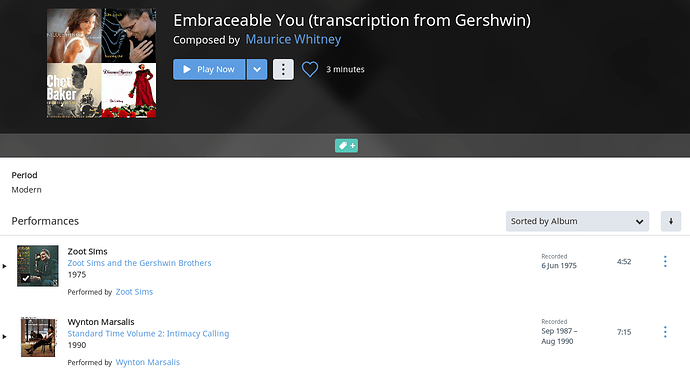 I regularly look through my meta data to standardize song titles, composers and names. In the last day I found these errors. I am worried the errors are generated by Roon and there could be much more.
Regards, Bill