Hi all! I hope someone can help me get back into listening business!
Core Machine (Operating system/System info/Roon build number)
Synology NAS 418 Play (Has worked perfectly during trial)
Core installed on USB drive
Library stored on 4TB drive
Songs: 3700
Network Details (Including networking gear model/manufacturer and if on WiFi/Ethernet)
Previous situation: Nas connected by ethernet to Netgear PROsafe GS105 4 port switch, which was in turn connected to my internet router. BS Powernode2 was also connected to that same switch and a Node2 was connected to the internet router. All wired and the system worked perfectly.
New situation: The wifi of my internet modem was disabled and replaced by a TP-Link Deco M5 mesh network. Wired to this network is a TP-link SE108E manageable 8 port switch. (to replace the internet router) So the NAS and Powernode2 are both still connected to the same switch, which is now connected to the new TP-Link switch. All still wired. The NAS can still be accessed by any device in the network, except for the Roon app somehow.
Audio Devices (Specify what device you're using and its connection type - USB/HDMI/etc.)
Bluesound:
Powernode2 - Wired
Node2 - Wired
Pulse Flex 2i - Wifi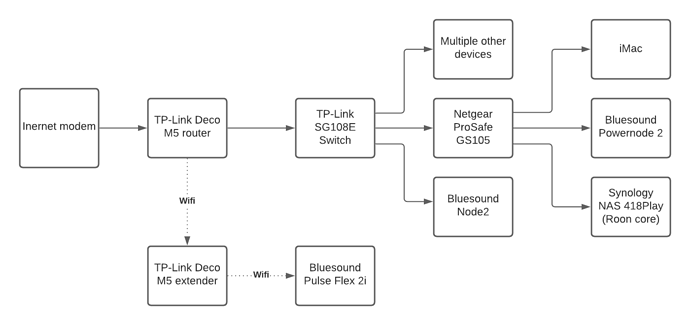 Description Of Issue
When trying to log into any of the controllers (iPhone, PC or iMac) the app tells me there is a error and that I need to check my internet connection. I can't find anything wrong on my connections though so I think there is some issue with DNS/IP or something like that which I do not really understand.
The Flow control of the port where the switch to the NAS is on is enabled.
What can I do?