And don't forget accessibility. I would appreciate it.
I would like to copy text from Roon, to search for things online and when I write about music.
The ability to copy the names of artists, tracks and albums would be very useful
If Roon is afraid/unable to make text-copying available in general for copyrights reasons (editorial content) - I will suggest a seperate dialog box where basic track info is displayed in a manner so that you can copy the text strings you need - artists, track names and album names.
A possible workaround to get the basic info is to use Roon's Export function to export the text to an Excel spreadsheet…
Sounds quite inconvenient - but how do you do that?
Very easily. Right click on your selected items (e.g. tracks or albums), so that you get the menu bar across the top of the screen, and choose the "Export…" from the 3 dots menu. Then click the "Export to Excel" tab and click the button. An Excel spreadsheet with all the metadata from your selected items will be created and placed on the desktop.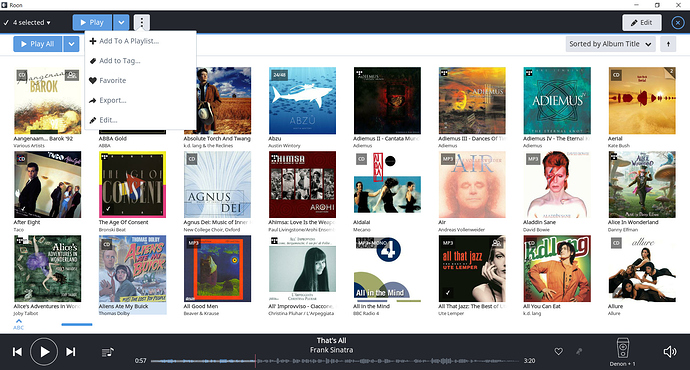 Been requested previously. IIRC not possible because the text you see on screen is not actually text but part of rendered graphic
Yup - its seems like that is how it works. Dont know why they did it that way. But anyway they could give the option to get an "info box" where the text is real text. This is a major drawback for me.
I have a request becuase sometime I have some problem to translate the text of song , cover, comments or critic from english to my language; so it coul be appreciated if coul be possible to copy the text and use it for online translation.
I ask if could be possible .
Thanks
it's all pixel rendering rather than traditional text so it can't be done.
It's a real shame ! If you do the rendering in pixel of the text, give at least the ability to download it.
In any fields of the presentation wondows you can select text ??? It will really improve the research avoiding typos !!!
No, I don't think so.
You might want to change this into a Feature Request.
And for the non-english readers, to copy reviews and bios into Google translate.
Sorry Brian but tell me if you're abble to copy/paste anything in Roon Text section… On my mac and my Roon version I can't !!!
Sorry @Embalens, I could have been clearer. I was supporting @mikeb's post in that being able to copy into Google would provide translation facilities to non-english speakers.
There is no way to do that at the moment. The only cut/paste facility is in the edit pages where artist names and so on can be changed. I have sometimes used that to copy a track title to the clipboard.
+1 for that, along with the ability to move that damn editing screen that just blanks out everything, where there is a need to see - so it should be a floating screen.
Cut & paste with a floating screen!
I want to copy the texts of information about interpreters, etc and it is impossible to make a copy and paste to translate into languages ​​… please fix that.r