Core Machine (Operating system/System info/Roon build number)
QNAP TS 251 Roon Ver. 1.7, Build 610.
Network Details (Including networking gear model/manufacturer and if on WiFi/Ethernet)
Ethernet from Billion 7800 Router through Netgear ProSafe 5 Port gigabit switch
Audio Devices (Specify what device you're using and its connection type - USB/HDMI/etc.)
Meridian 218 Zone Controller on Ethernet.
Description Of Issue
One (and so far ONLY one) of my album covers is showing a corruption in the play page as shown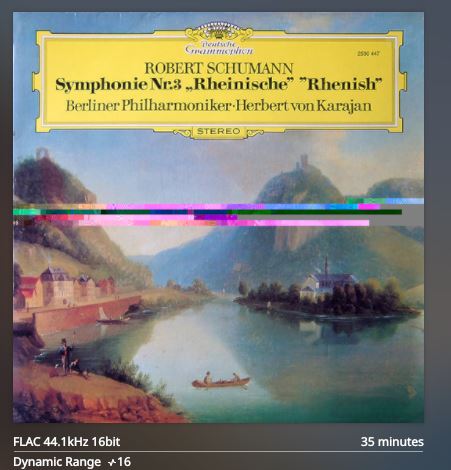 I have deleted the album and reloaded it, put a clean version of the artwork in the folder, cleared the image cache and restarted both the Roon Remote and the core. The corruption remains…but only on the play page. Everywhere else in Roon, such as the albums browser and the edit page for the album, the artwork shows correctly.
Any ideas?