Roon Core Machine
NUC8i5, 32GB, 256GB NVME
Description of Issue
I have tried to install a fresh ROCK install from a USB installer on my spare NUC, an NUC10i5 and an empty 480GB NVME which installed without any hitch. I had Remote 2.0 removed from my iPad and have Remote 1.8 Legacy installed.


I then created a "branches" folder, downloaded "roon_1-8" file, copied that file to "branches" folder and renamed the file to "roon"


Thinking that this whole thing might only work if I already had 2.0 version, I opened remote and updated the core.


The update gave me version 2.0 build 1128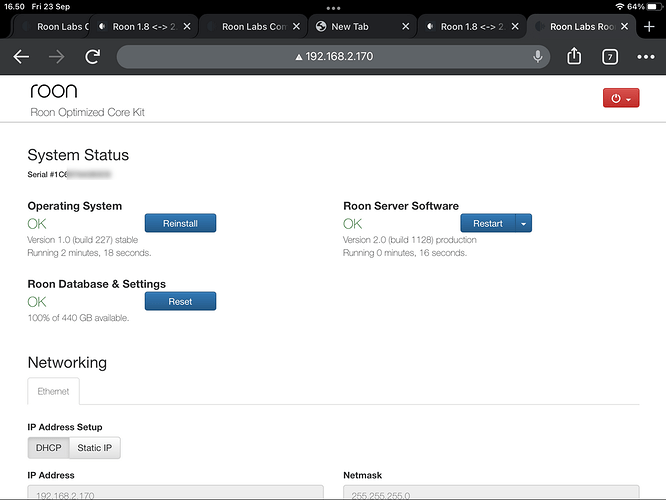 I tried step 3-5 above with the Roon 2.0 build 1128, but it I am still back with build Roon 2.0 build 1128. I could not downgrade to version 1.8 production.
Next thing, I retried step 1-10 above on my main ROCK, a NUC8i5, which is running Roon 2.0 build 1119 early access, but I could not downgrade to 1.8 either.
Finally I downloaded Remote 2.0 b1127 but could not connect to my main ROCK with the remote. I downloaded TestFlight and reinstalled Remote 2.0 b1119 and I could not connect to my Core. This is the first I have problem connecting to my Core, ever. Frustrated and now I want to listen to the music in my evening, I renamed the RoonServer folder and restarted my core in order to start over from an empty database. This time the remote could connect and I did a restore from my last backup from "2022 Sep21 07:04:28 Version 2.0 (build 1119).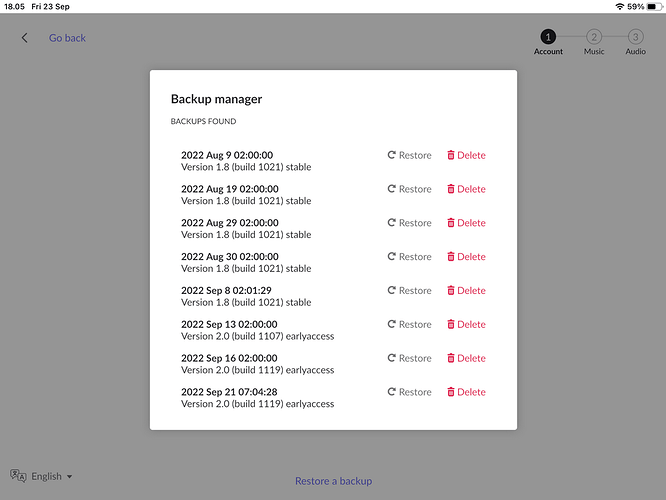 After the backup is finished I relaunched the Server and after a few minutes I still could not connect to the remote to the core. Usually it only takes 1 minutes 40 seconds for the remote to connect from a restart.
I deleted the RoonServer folder and started a restore process again, this time using my "2022 Sep 8 02:01:20 Version 1.8 (build 1021)" backup. After the restore was completed, I relaunched and after a couple minutes I was asked to deauthorized my backup Core setup previously in step 1 above. Almost all went well, except that Metadata improver was paused and my hard disk scan only ran partially. Core restart fixed all that.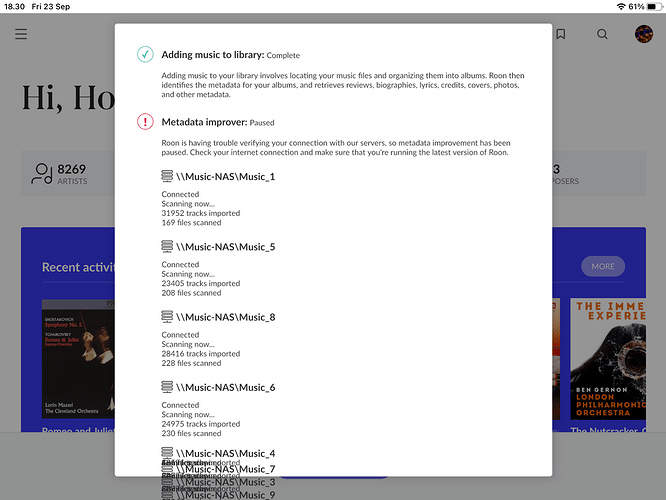 However, I am still back at the beginning. I wanted to downgrade to 1.8 and could not. Did I miss anything in my steps above? Please assist.
Thank you.