Core Machine (Operating system/System info/Roon build number)
Ubuntu 18.04.1 LTS
docker 18.09.1
Intel Nuc Skull Canyon NUC6i7KYK
Network Details (Including networking gear model/manufacturer and if on WiFi/Ethernet)
AmpliFi HD Mesh Router connected via Ethernet - also using a Synology NAS DS918+ storing all my music
Audio Devices (Specify what device you're using and its connection type - USB/HDMI/etc.)
No audio devices directly connected on the NUC, it just acts as a server, I have a few sonos endpoints and a raspberry-pi connecting to the core
I'm using docker-roonserver for a long time and that worked excellent up until a while ago (I cannot point out when the issue started). But at this point, Roon is using way too much CPU, even when I'm not using any client.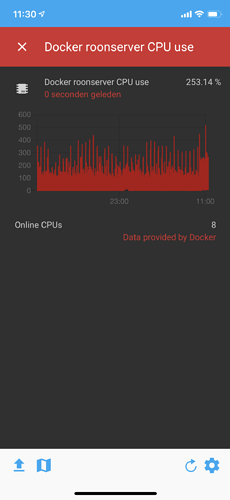 I've already looked through the logs, but no dramatic messages were found.
Also, I did an uninstall (renamed the /app and /data folders and reinstalled the docker container to make them clean-installed again and restored from backup), but that did not help at all.
I have no single clue why this keeps hogging my server that much.