I had a quick search for "albums listed multiple times in tidal" and found nothing so I hope I'm doing something really silly like missing a setting somewhere.
This PC Roon v1.3 (build 269) stable (64-bit)
Core Roon v1.3 (build 269) stable (64-bit)
Search for David Bowie, select TIDAL Artists, select David Bowie.
Leave role as performer, scroll down to TIDAL main albums, and we see:
David Bowie twice, but different versions, so that's OK.
David Bowie (AKA Space Oddity) [2015 Remastered three times, and all appear identical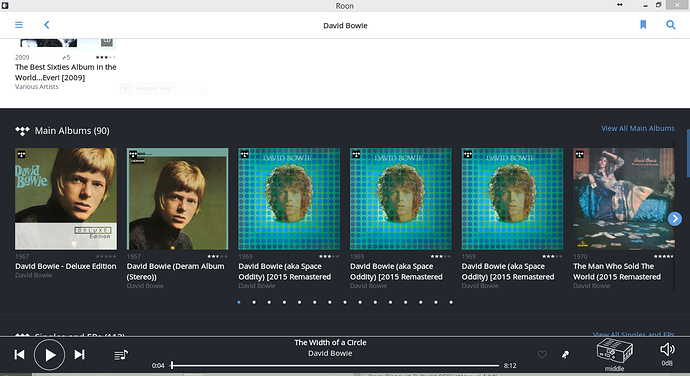 Select View All Main Albums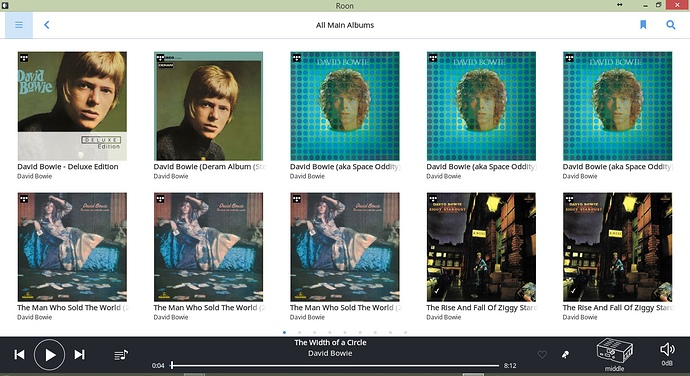 CHAOS, many albums listed multiple times with same apparent version.
And let's face it, not even Bowie REALLY did time travel. Recorded in December '69, Originally released in November '69, this 2015 remaster released in September '69.
And this appears to be by no means limited to Mr Bowie.
I hope I'm doing something wrong.
Foz