There is a lot of that going on right now. It is a shame Bowie didn't get to do this himself like some of his contemporaries, but rights management of large bodies of work is the stuff of corporate entities. Older artists or their estates don't want that hassle.
I noticed that the MQA of Ziggy dropped back to 44.1, I had the 192KHz and 48 KHz MQAs, which are no longer in my library this morning. Hunky Dory is still 48. Did I miss something? I only played the 192KHz on Sunday.
The drawback of streaming services is that they can change the version of your tracks available for various reasons. It seems MQA versions are particularly fluid with increased and decreased resolutions on offer.
The 2012 Remaster is still showing 192 MQA for me. Other versions 96 MQA
Ditto. By clicking 'Versions' I can get 192k, 96k and 44.1k of both Hunky Dory and Ziggy, which I presume are all available to give users choice where data is limited.
Thanks Chris and Richard,
Under "versions" the 96k MQA of Ziggy is available, though the 192k is not. All the other albums show 192k (and other versions). I can only assume its a "blip"? The other albums all play perfectly at 192k, so bandwidth/data is as usual.
@eco2drew This is what I get with Ziggy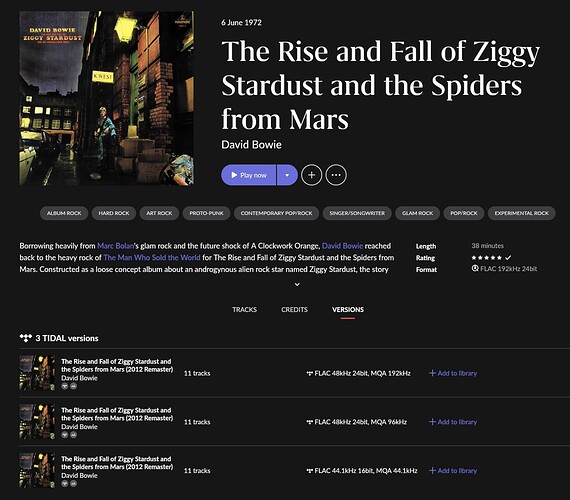 Which region are you in?
Cannot believe Ziggy is almost 50!
Hello Richard,
I am in mainland Southern Europe. As you can see, 192k is not showing.
50, scary, and to think I was 13 when I saw Ziggy & The Spiders live (matinee Taunton

escaped from home on the 218 bus… fresh as a daisy in the memory. Oh I am also loosing graphics as you can see Hunky Dory is now a white square. I do have exceptional bandwidth and there is no reason to suspect connectivity as a reason.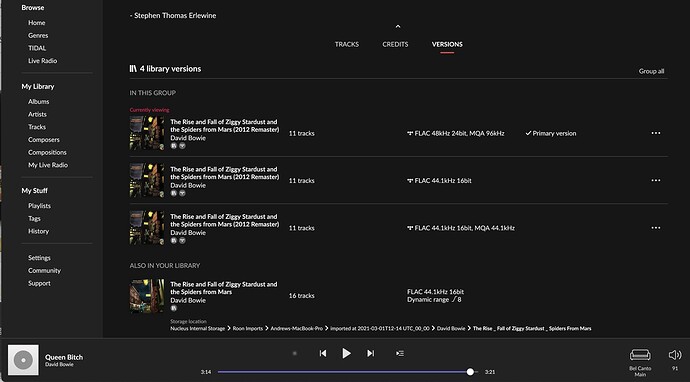 Thanks, Andrew,
I had assumed that Europe would have the same access/regional licensing as the UK, but perhaps access does vary from country to country, or perhaps Brexit has changed things? Is it worth re-starting your core to see if it is one of those strange API issues that seemed to come with the last updates?
Very cool story. Being slightly younger than you, I only got to see Bowie in 1983, but, frankly, by then we were already in cabaret territory. Wished I could have seen the 'Station to Station' tour, but I had to wait until 16 years to get to London for my first gig…a certain Mr Numan, who these days is still a cracking live act, if not Ziggy.
This.

Hello Richard,
And thanks, yes all elements of the system rebooted, but no 192k return yet.
Brexit has indeed moved many things back to the 1970s, and the reintroduction of "annoying" border procedures is "right up there", but restricted sampling rates… on Ziggy… well thats harsh!
Serious Moonlight and Glass Spider were challenging compared to Stage, on "Toast of Tinseltown. S3 E2", they joked about Bowie leaving his stage costume in a taxi as he "wanted to forget"


Numan still touring? wow! I heard his original drummer passed, sadly.