OK Music Fans! Here's the sonic temptation for Easter Monday!
Prince was such an icon that many, for better or worse, already hold an impression of him and his music. Irrespective of one's personal opinion, the question remains: was he actually the musician his reputation suggested? Or was he a lucky participant in the Hit Factory? (It's worth noting that he controlled his music to such an extent that he even created his own bootleg business after finding out that Italy was making money bootlegging popular artists)
Many have heard that he played 18 instruments well, and perhaps some of us have seen him rip on the electric guitar at the George Harrison tribute (if you haven't…it's worth watching: Prince plays at George Harrison tribute). But 18 instruments? Is he actually good at any of them? And good compared to what? Since many of us can only just play a single instrument (or less), it's hard to imagine what it means to be a multi-instrumentalist.
His post-humous release recorded in 1983 was just a session recorded with him in front of a piano. Piano is very different than guitar, and acoustic piano was not often featured on his music. I would argue that it is also generally easy to hear the difference between good playing and great playing.
So with that backstory, this is what we're listening to today. Check it out!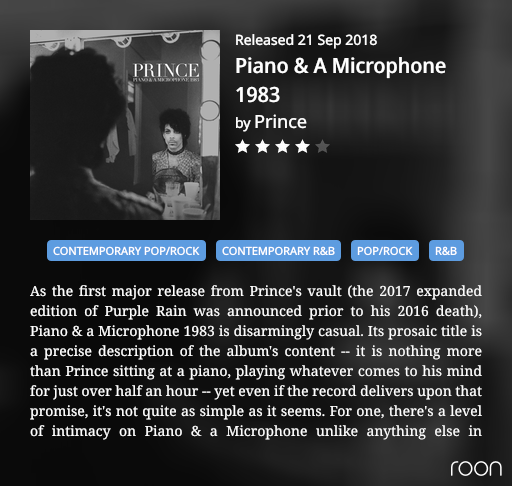 Fantastic! (5 Stars)
Meh…(3 Stars)
Not impressed (1 Star)
Day 16 voting is still accessible here (unless you're in the mysterious UK music shadow!): Day 16