OK Music Lovers! One week down and 23 days to go! Day 8 reaches back to early contemporaries of The Animals and The Stones. I'm trying to not include too many "Best of's" since it will screw with my summary stats. But this album spans only a couple of short years so I'm going ahead here.
Now this album is actually 3 discs (funny the inherited language we use…albums…discs…). I suggest listening and voting on just the first one. If you love it, feel free to keep listening, but you only need vote on the first one.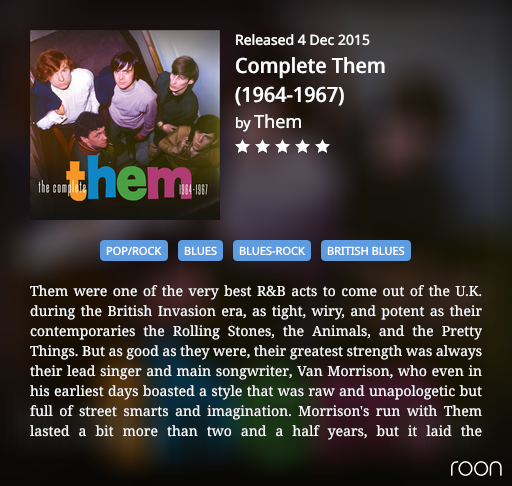 This music is G-L-O-R-I-O-U-S (5 stars)!
Meh…(3 stars)
Baby Please Just Go! (1 Star)
If you haven't voted on Day 7, don't forget to visit the page here: Day 7
One final note. Apparently someone was flagged on this thread for posting a comment that I can only assume offended a reader. The comment essentially implied that rap/hip hop sucked (I'm editorializing). That opinion need not be taken to heart - it's just someone's side comment/opinion. But the diversity of opinions is genuinely interesting. For everyone who thinks rap is not music or takes limited skill, there are two others who can demonstrably show otherwise (it is the most popular music form today: Have a look at this video that shows how music popularity has changed through time)
My subsequent request it two fold:
Let's not be too sensitive when reading. We all have very different musical tastes and someone's critique, no matter how harsh, need not negate our own experience.
Let's be a little sensitive when posting. We have a tendency to believe we hold the right opinion that is often shared by a majority of people. As I'm running through the results, I can tell you that it is not the case.
Have a great weekend all, and enjoy the journey!