dCS will be releasing support for MQA decoding in the Network Bridge on Wednesday, May 9 at 9:00AM UK time (BST). In conjunction with the firmware release a new version of the dCS Network Bridge iOS app will be available via the App Store.
As of this release the software versions for the Network Bridge will be:
Main Board: 1.00
Network Board: 373
iOS App: 1.4.8
Along with MQA support this version includes a number of bugfixes and enhancements.
Notes
Upon performing the update the Network Bridge will need to be rebooted. Although the instructions in the app state otherwise you should ensure that you can connect to the Bridge with the dCS app prior to power-cycling the unit. The entire update process should take no more than 5 - 7 minutes.

If you are using Roon with the Network Bridge and an MQA-capable DAC then you should ensure that the "MQA Capabilities" setting in the Roon Audio Device Setup window is set to "Decoder and Renderer" as shown in the screenshot below. If your DAC is not capable of MQA rendering then you should use the "Decoder Only" settings.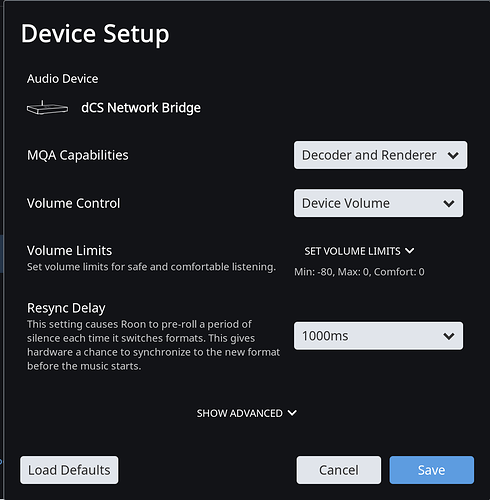 The volume control in the Network Bridge must be disengaged in order for MQA processing to function correctly. This is accomplished by setting the volume level for the Bridge to 0.0dB.

This release includes a number of stability enhancements specific to Roon and you should notice much better behavior when the Bridge is used as a Roon endpoint.
Please use this thread for any questions that you may have about this update.