Core Machine (Operating system/System info/Roon build number)
Mac mini (Late 2012) with 2.5MHz i5 processor, 16GB ram, dedicated for Roon core (no other apps running, non-necessary functions like IR and Bluetooth shut off) with latest MacOS and Roon build numbers
Network Details (Including networking gear model/manufacturer and if on WiFi/Ethernet)
Synology DS412+ NAS, AudioQuest Forest, Carbon and Vodka wired ethernet, with AVM/FRITZ!Box 7490 router and D-Link DGS108 switch
Audio Devices (Specify what device you're using and its connection type - USB/HDMI/etc.)
AudioQuest Coffee USB to NAD M51 d/a-converter and Bluesound Node2 via network as Roon endpoint
Description Of Issue
For about a week now a deleted album keeps showing up in the Roon Remote app on my (6th gen) iPad. I deleted it because I made a mistake with the file format (wanted to use AIFF but used Apple Lossless instead) but when I tried to delete it from within the Remote app I got a warning that the file was in use. So I shut off the app and used the Mac mini in my office (so not the one with Roon core on it) to delete it by hand from my NAS. When I use the File Station app on my NAS to look for the file in question it isn't there.
The funny thing is that the album is still visible in my iOS Roon Remote app on my iPad (see picture), while the iOS Roon Remote app on my iPhone doesn't show it anymore (see other picture).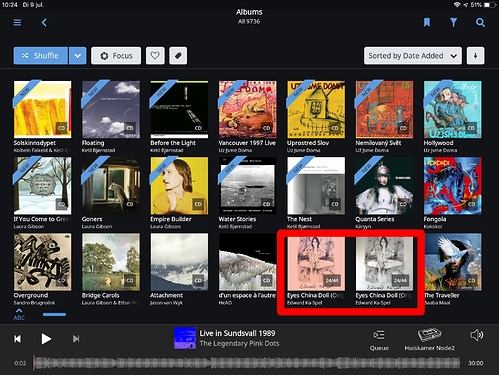 !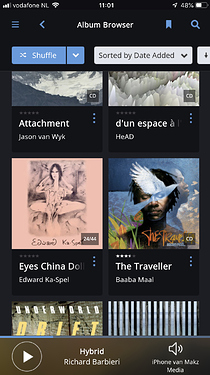 !
I followed the instructions in this closed thread:

but to no avail.
I clicked in the three dots next to the song titles of the deleted album to enter the details like the file path but obviously there is no info there at all because the file is gone. So using Roon edit to 'hide' the album doesn't work either.
I disabled and re-enabled the Roon core from the remote app, I deleted and re-installed the app on my iPad, I restarted the NAS, I performed a Library Cleanup, what else can be done? A complete Roon core re-install is not on my list of favorites I must admit…