Core Machine (W10/Threadripper 2950x, 64GB DDR4, 2080Ti, 3x 960 Pro 512gb, 3x 1tb 860 Evo/Roon 753 1.8)
Network Details (Including networking gear model/manufacturer and if on WiFi/Ethernet)
Direct Gigabit Ethernet to discrete Ubiqiuti Stack w/10gb Fiber throughput
Audio Devices (Specify what device you're using and its connection type - USB/HDMI/etc.)
Schiit Gungnir connected to Core (USB)
Fiio M15 connected to laptop (WiFi)
Various Google speaker groups (9 Speakers, 3 Groups) (WiFi)
Description Of Issue
I have had this issue for some time. I had a thread open, but it was closed and marked as resolved. I'm not sure how that happened since it definitely hasn't been fixed.
All of my manufacturer-specific device endpoint icons are missing when I am using Roon on my Desktop PC (the Core). The default icons show up, but all of my Google, Schiit, and Chord devices are just blank. (See Image)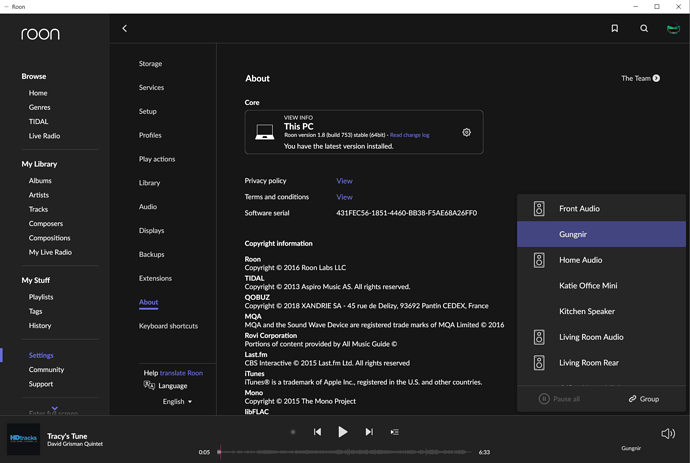 The manufacturer-specific icons appear on my Laptop and Android Devices as well as my wife's iPhone - this leads me to believe the problem exists somewhere in the local installation on the Core.
Since I have had this problem before, I have gone through all the recommended solutions - however, here is a list of the steps I have taken.
Deleted the product image files in the AppData directory.
Restarted Roon.
Restarted Computer.
Updated Windows (Currently on KB4601319).
Uninstalled Roon and Reinstalled (I used a backup file to restore).
Disconnected and Reconnected affected devices.
Restarted and inspected network stack for errors (though I'm not sure this could be an issue)
I'd appreciate any further advice. I was hoping that 1.8 would solve the issue, but it hasn't.
Thanks,
Kalen