Congratulation to ROON and Trinnov, the RR (ROONReady-not
Rolls-Royce
;-)) ) app works on my Meridian Control/Roon application.
The Amethyst is now one zone more on my audio network.
As the ROON app have very interesting features, i want to use some,
but i dont find something like a manual for that?
My first important questions:
1)On the "device setup" and the sheet "playback" of the mriadian/Roon control application,
there is one point where the user can select how many channels ROON should send to the Trinnov Amethyst during playback.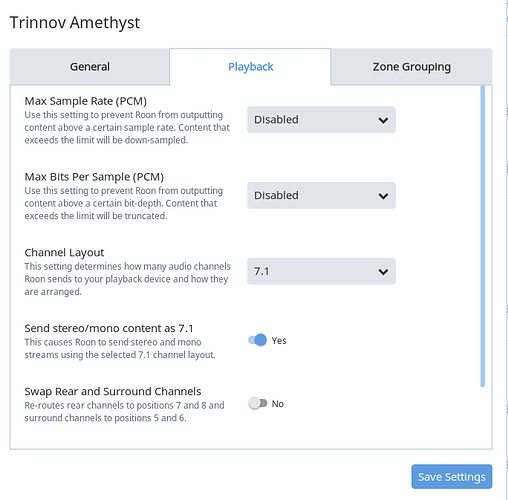 As ROON have "only" two channels, does that mean the ROON app make an "Upmix" to 5.1 or 7.1 channels ?
My Trinniov is setup as a 3.0 layout, but when i select "5.1" or "7.1" channel layout still only stereo is played.
Please give me some info here, what the whole "Channel layout" chapter is.
2)Also under "device setup" under the sheet "General" there are two chapter "External Volume Control" and "External Source Control". I select both with "Hide Volume Control in ROON", but both chapters are still grayed out and i cant find a way to enable it. As my LS have digitals inputs and have their own volume control,
i will loose resolution when i use the ROON volume control. At the moment i have to use my Meridian remote control or app to change volume.How i can enable a "volume app" or the "external Volume Control" ?
Please explain and help.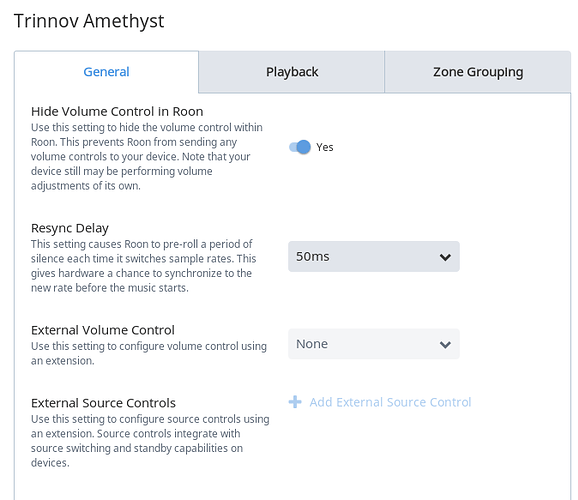 Spoke with TRINNOV–ROON is responseable for that they say
Thanks Robert