Roon Core Machine
ROCk on NUC8iBEH, 4gb RAM, 128gb SSD
Networking Gear & Setup Details
All wired, ethernet
Connected Audio Devices
Ropieee on Pi4, local library SSD connected by usb to rock.
I use iOS and Android control apps.
Number of Tracks in Library
32,000 tracks
Description of Issue
I have had an issue since build 936 when certain artists discography don't load. For such artists I just see a couple of grey boxes. Qobuz is my subscription service.
Example artists include the mars volta, elbow, dead meadow. There may be others, I haven't been through every artist. For each of these artists I have a mix of local only/streaming albums.
Below is a screenshot of what I see for dead meadow: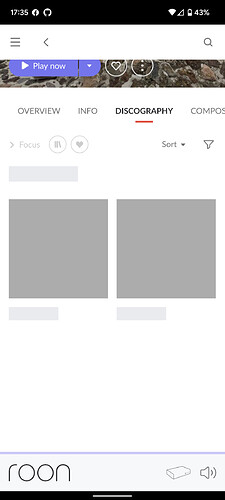 I have tried restarting all hardware with no joy. I can't see any pattern as to why certain discographies don't load.
Any help appreciated.