Same display problem also here with moto X 2014. No problem with S7 (android 7) and BQ (android 6) Tablet
Same here, on Lenovo TAB4 8 Plus.
Annoying…

Same problem. Is there a fix?
Edit: Mine is a Samsung Galaxy S2 Tab
Hello, why does nobody from support answer this thread?
I don*t really want to have to buy an Ipad (that means losing the amoled screen) and it seams to happen on both Samsung flagship tablets and other devices.
Thanks
@support can you offer some help here. It may be product specific so worth a look.
Hey everyone,
I have moved this thread over to the Support section of community, since this not working as designed and I wanted to make sure we acknowledge the issue. We do have a ticket open for this issue in our internal tracker, but I don't yet have a timeframe for when that's going to happen.
We've looked at this in the past, and we believe this issue may be related to how Roon's graphics engine interacts with Android. It's hard for us to provide estimates on when that work may happen, since changes like this can be pretty involved for both our dev and QA teams. I'm going to look into this further, and I'll be sure to update this thread as any news on this becomes available. Thanks in advance for your patience!
Kind regards,
Dylan
Same problem here, using a Pixel phone running Android 8.1. Just looks very unpolished and should be a high priority issue.
Its a shame, This topic was opened 11/2016 …
I have had the same issue for years. Exactly like in the first post picture. Getting close to 3 years and the Android tablet screen tear still hasn't been fixed.
Same her, since startet ROON over 2 years ago…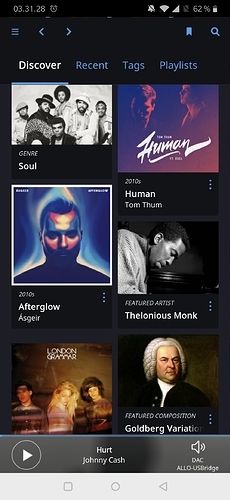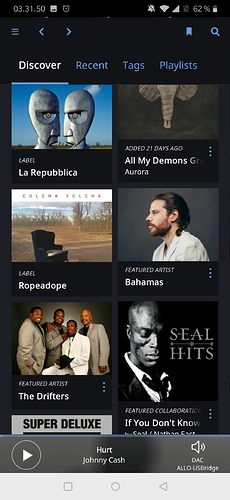 Sometimes when playing, the top off the screen line is flashing, without touching it
Here running on Oneplus 6T OXYGEN Beta 7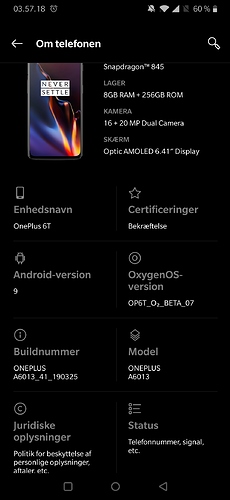 I see the same thing on my Samsung Galaxy S4 tablet. Haven't gotten around to posting my issues yet (still busy getting things setup) so glad to see it's not just me, but disappointed how long it's been.
FWIW, I haven't seen the same thing on my android phone, but I have just started using it with Roon (and it has other more important issues).
I've been using Roon for about a week. The integration of my library, Tidal, and Qobuz seems to be working well. Using Roon Remote on my Samsung S9+ without many issues. As some others have also indicated, I'm looking to get a Samsung tab S4 to serve as a remote. Can anyone comment whether the recent April 24 app update has helped to resolve the display issues? Many thanks.
Hi @Paresh_Bhatt,
Yes, this behavior was resolved in Build 416. You can read the full release notes here:
Well, not completely. The lines to the side are gone (for me, pixel phone, Android 9) but I got a new "line" at the top of my screen now. See screenshot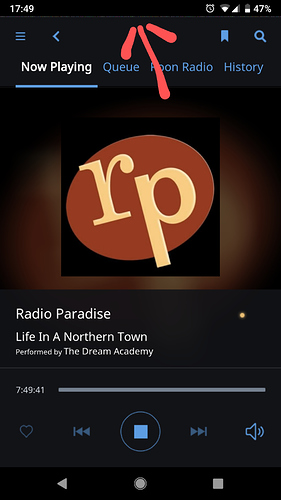 Related observation. On my Samsung Galaxy Tab S2 8 inch tablet, Roon displays correctly in landscape mode.
Wishing it would not force landscape mode and instead also work in portrait mode, I installed some random app that allows you to override the display orientation and force portrait mode. This worked, but it showed that line of noise at the top like others are seeing. So I abandoned that. (This was with build 416.)
Except for the line of noise, though, everything else worked fine and was readable and usable. I sure wish Roon would allow portrait mode on this tablet. It's my only frequently used app that doesn't.
I've got the Tab S4 and it definitely improved with the update.
Many thanks for the prompt responses. Sounds like it's a far better experience, though could still use some work. Think I'll give the Tab S4 a shot…
I think the Tab S4 is a great experience with Roon. The one annoyance I have seems to be common to all the Android devices and that's if you leave the tablet alone for a while or switch apps, when you come back to Roon it has to start up again.
This topic was automatically closed 36 hours after the last reply. New replies are no longer allowed.