Whenever I see pictures of someone's signal path, I always check the endpoint's name. By name, I mean the name you give your device not what the manufacturer named it (or model name and number). I am new to the community so I might not have seen much, but I want to share how I name my devices.
I have a diagram of how I plan to use my Roon system. It is a long-term project (two years, maybe) to complete all specified endpoints. I will name all Roon endpoints after characters from my favorite anime. I believe I am halfway the project, if we are talking about the count and not cost—I already have the AudioQuest Dragonfly Red, Sonos Port, and Sonos One SL; Sonos Five is on the way.
How do you name your endpoints?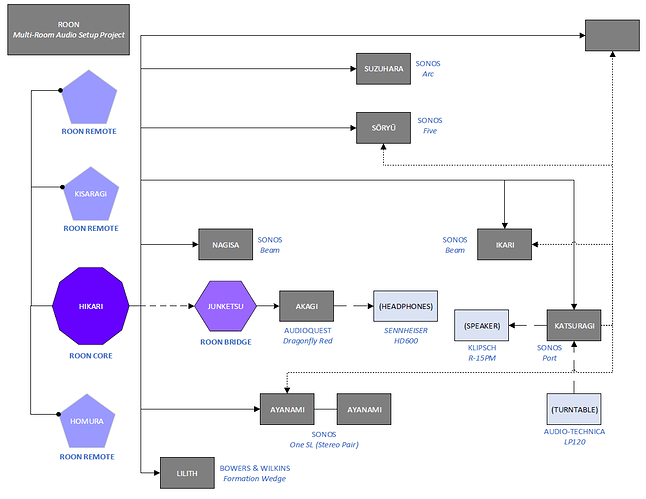 [I am an INTJ—search for MBTI if you're not familiar with it—so I (tend) to plan things ahead. Endpoint types, names, and locations have been thought out, especially the names. These are not random. Allow me to give you an example, when I play music to Katsuragi (Sonos Port)—either from Roon or from LP120—it will simultaneously play to Ayanami (Sonos One SL), Ikari (Sonos Beam), and Sōryū (Sonos Five). This alludes to the anime's storyline where Katsuragi is the field commander of pilots Ayanami, Ikari, and Sōryū.
I have a Chromecast display (named Kaji), not shown, which automatically turns on when Katsuragi plays. Katsuragi and Kaji are/were lovers in the anime. Ooops.
If it isn't obvious yet, the colors of the diagram are after the Roon 1.8 theme.]