Hi,
Simple question, does a scheduled Roon backup stop music playback?
Cheers,
Dennis.
Hi
If music is playing backup will not be performed. If you force a backup while music is playing roon will stop playing and do the backup

The force backup warning: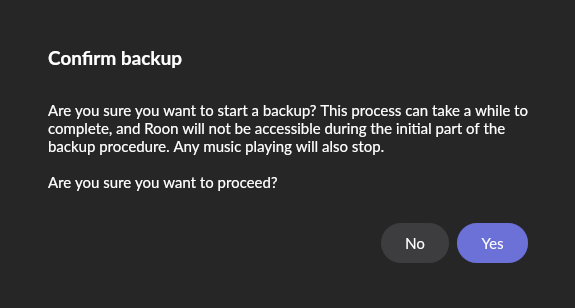 Hmm,
I like @Traian_Boldea 's answer better than @AceRimmer 's answer.


I sincerely hope @Traian_Boldea is right.

Cheers,
Dennis.
Just see how it works in your case. I might be wrong
Actually…not enough coffee.
I believe if music is playing the backup will fail.
I'm never awake at 2am to test it…
In that case you never had enough coffee

There are people in my house, not naming names, who inadvertently leave Roon Radio on before going to bed and I wake-up to failed backup. On a manual back-up Roon will warn it will stop working to do the backup so I need to check if another zone is in use before triggering manually.
@Traian_Boldea posted the relevant screenshots above.
This topic was automatically closed 36 hours after the last reply. New replies are no longer allowed.