Seems now artist genre is the aggregation of all albums you have in library of this artist. This is in general a bit dissapointed. Look at Solar Fields example: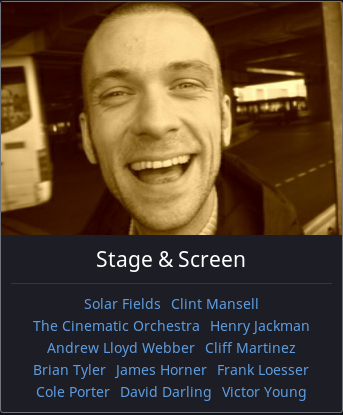 They appears under genre Stage&Screen.
The albums in my library are:

It's clear the genre of Solar Fieds isn't Stage&Screen, but they have a soundscore for a video game…
Looking to the genres assigned to Solar Fields:

We realize that the genre is an alphabetic sorted aggregation of all the genres of all the albums in library and main albums (from Qobuz / Tidal). Seems internally Roon assign more weight to albums in library than main albums not in library (this is good if so!), but the genres at artist level appears sorted alphabetically and all together…
My propose is that first appears main genres (according with Roon or proper classification of genres) sorted by number of appearances in albums of the artist. Then the rest of subgenres sorted by the number of appearances of albums.
This involves a groupby in database with a sort in results, so really can be do in real time without too much CPU effort.
Two more tips that would do magic:
Show the main genres in different color.
Introduce a parameter for limit main genres or subgenres in some way, by example if artist have more than N albums only show genre / subgenre if there ar at least K albums (a fair value for K should be 2 or 3). This avoid the case in which if an artist participates only a time in a soundtrack he have forever a Stage & Screen and Soundtracks genres forever. Other way (not incompatible) is limit the genres to N and subgenres to M and select them according the most appeared in library + rest of main albums (given a bit more weight to the library).
I played now a bit more than a month with Roon and only to say it is fantastic, I've discovered some workarounds for fixing some thing I preferred in other way, but this issue with Artirst genres seems difficult to solve without the help of some piece of code.
JAG