Hello @noris
I'm getting a new Mac mini next week, so I'll try your suggestions next week. Thanks for following-up
I have the mini since this WE and got some HDD issues on Sunday. Although on Saturday I did notice my DAC to turn off by itself. I'll test more but do you mind activating the diagnosis to find a solution? I'll note the time if it happens again this week.
Thanks.
It just happened today at 7:05 PM SGT (11:05 AM GMT)
Hello @Gigatoaster,
Thank you for letting me know the timestamp. I have just checked our diagnostics system and I have not been able to find any new reports for your account. I have re-enabled diagnostics but if they still do not come in, can you please manually send us the Logs from your machine so that we can take a look? The best way to get the logs over to us would be through a shared Dropbox link or shared Google Drive link. Please let me know if this is possible.
Thanks,
Noris
Thanks @noris . I don't have Dropbox, do you have another way?
Hello @Gigatoaster,
I will PM you shortly regarding another upload method.
Thanks,
Noris
Thanks. I followed your instructions. It happened again just now 1:03 PM SGT.
Happened again just now (1:34PM SGT), this time was when I turned off/on my TV, on which the mini is connected. Weird!
Hello @Gigatoaster,
Thank you for sending us your logs. I have reviewed them and as far as I can tell, I am seeing that the connection to the TEAC device was lost and Roon attempts to reconnect but is unable to do so for a few seconds - a minute. The reason why it is disconnecting is not clear yet and I have asked QA to take a look at the logs to see if they can provide some more insight.
With this said though, I think we should take a closer look at the TEAC itself. Can you please try replacing the USB cable with another one or possibly trying the TEAC drivers for Mac from their website? My initial impression is that the USB cable you're using does not support enough bandwidth to stream DSD content properly. I will be sure to let you know once QA has provided me the full analysis for your logs but if you can replace the cable & check those drivers in the meantime, that would give us a great troubleshooting starting step.
Thanks,
Noris
Thanks. I'll go to the shop and get a better USB cable. I bought the least expensive one (2SGD) so that may be the reason.
In your own opinion, is to worthwhile to put 100s of SGD in the cable or something more affordable would suffice?
@Gigatoaster - I assume SGD stands for Singapore Dollars here? 2SGD converts over to $1.45USD.
I would personally try to get at the very minimum a decent cable somewhere in the range of $5 - 20USD (10-30SGD) but depending on your applications and how you want to use it I have seen people advocate for getting more expensive ones.
I have been using and Amazon Basics USB 2.0 Cables just fine, but then again I don't play too many DSD files so higher bandwith is not really needed for my setup. You may want to post your question on our Roon Audio Products section of Community to hear about the differing opinions on this matter.
I have also found a few threads where people discuss various USB cables if you want to give it a read:


Thanks,
Noris
Thanks. I'll get a regular one.
I've notice that it appears every 29min…
I pay DSD128-512 through plenty of cheap cables FWIW and no issues. My most exp cable is a NuForce 0.5M that cost me like S$29 and is at least 7-8 years old.
Hello @Gigatoaster,
I have just received the report back from QA. It is not clear yet why DSD content is causing the issues for your DAC, but other than replacing the USB cable, they have also suggested to see how the behavior is like with Exclusive Mode turned off.
You can find this setting in Roon Settings -> Audio -> Cowheel icon next to TEAC -> Device Setup and should look like this: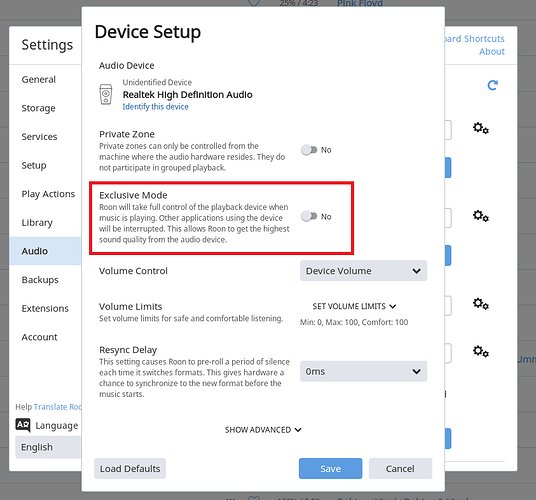 Please let me know if toggling that setting helps or if another USB cable resolves this issue.
Thanks,
Noris
Hello Noris
Thanks for following-up.
I bought a new cable for 7 SGD and I have some improvements: only one drop-off.
I'll try your suggestion. Meanwhile, I realized I have this feature on the DAC, would that be the culprit: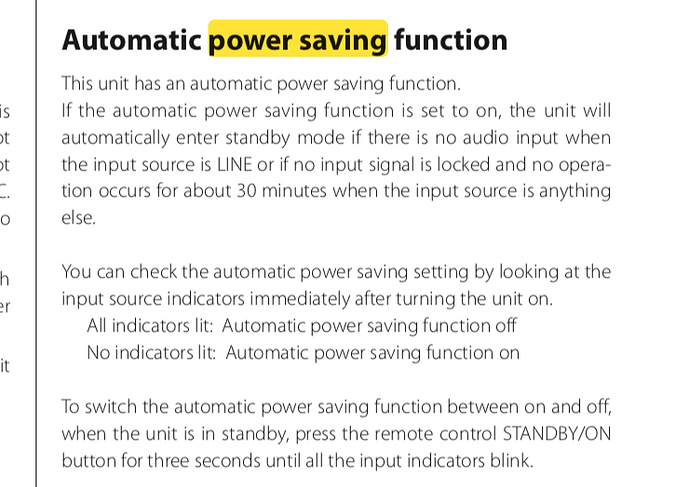 Hello @Gigatoaster,
Great find of the culprit! The hardest issues to diagnose are the ones that aren't part of the initial theory, but it's great that you were able to notice the pattern of every 29 minutes and locate that option. Also glad to hear that with the new cable the dropouts have subsided. If the issue occurs again, please let me know a timestamp and I can take a look at the diagnostics.
Thanks,
Noris
Thanks.
No dropouts since 3 hours playing music. I will test further today & tomorrow just to confirm.
Not a single drop off today. Problem solved: I can now enjoy my music!!
Thanks for your help.
Hello @Gigatoaster,
Great to hear that!
Thanks again for contacting support, and if you're in the United States - Happy Thanksgiving!
Thanks,
Noris
This topic was automatically closed 36 hours after the last reply. New replies are no longer allowed.