In 2 weeks, the DSP settings have already been reset three times, when starting Roon!!! Why?
Hi @Sergei_Khludeev,
So we can better assist you, please provide a brief description of your current setup using this link as a guide.
Make sure to describe your network configuration/topology, including any networking hardware currently in use, so we can have a clear understanding of how your devices are communicating.
Hi,
Information about your main device (OS, hardware specifications) - Win 10, 64x. Core i5-9600KF, nVidia RTX2060, 16 Gb
Network information (especially what hardware you use, how everything is connected and anything noticeable about how it's all set up) - /from the HDMI port of the video card USB cable to the Onkyo stereo receiver/to the TV HDMI ARC cable/from the stereo receiver to the speakers.
Used audio devices - ONKYO TX-8270
Information about the library (where your music is stored, whether you use a streaming service, how many tracks are in your library) - storing a library of music files on disk: With / / music. There are 1158 tracks in total. I don't use the streaming service.

Hi @Sergei_Khludeev,
Does this happen every time you restart Roon? To clarify, when you say restart Roon, are you just restarting the app or are you restarting the whole computer?
Is this only happening with DSP settings on the Onkyo or does the same occur if you used DSP settings on another endpoint?
Hi, Dylan!
In a month of using the Roon, only twice has this problem occurred . I will try to describe it in the following order : turn on the computer, turn on the stereo receiver, open Roon and see that the program settings shown in the photo are the settings have been reset by DEFAULT. I had to configure the program again twice.
At the same time, nothing unusual happened with the computer and stereo receiver.
I hope with my disgusting English I was able to explain the problem to you.
Maybe in the settings that can be seen in the photo, something is configured incorrectly and because of this, the settings are reset to "default"? I listen to files from 16/44 to 24/192 and DSD. I tried to configure the program so that Roon improves the quality of files.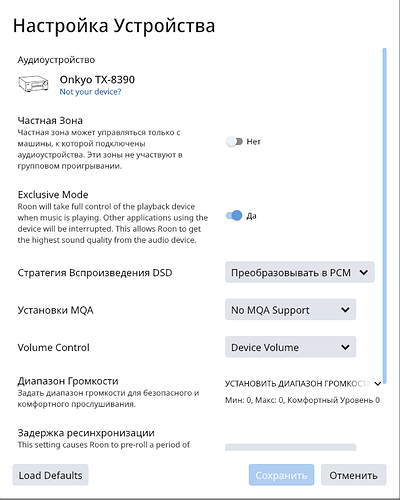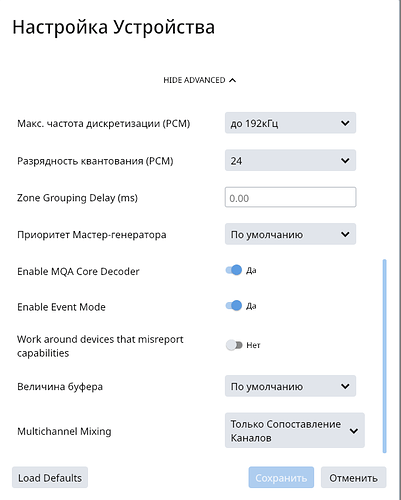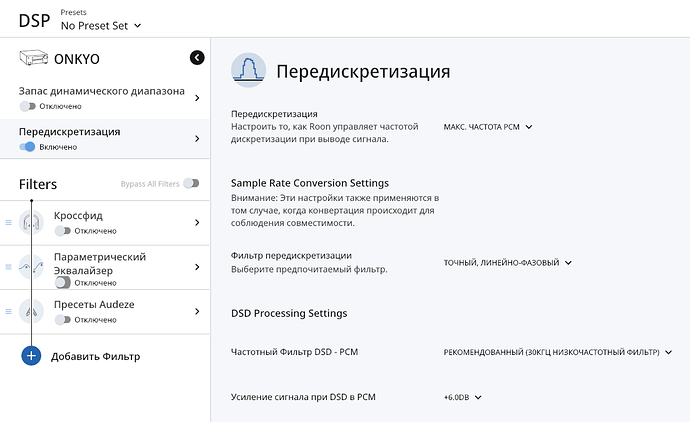 Hi @Sergei_Khludeev,
I think the next step here is to enable some diagnostics on your account so our technical staff can get some more insight into what's going on here.
However, before I enable this feature, I'd like to ask for your help ensuring we gather the right information.
First, can you please reproduce the issue once more and note the time at which the error occurs. Then respond here with that time, and I'll make sure we review the diagnostics related to that timestamp.
Dylan, deal! As soon as such a problem appears again, I will immediately inform you!
Dylan, hi! I bought a new DAC and listen to music in DSD256. The settings in ROON are appropriate. The problem appeared - sometimes the sound disappears (for about 1/2 second) after about an hour of listening to music. Uncomfortable to listen to. I thought that the computer processor is not coping and lowered it to DSD128. It's much better now. Sometimes the sound also disappears a couple of times, but then everything seems to be OK. I Send a few screenshots of the settings and a screenshot of the CPU task Manager. Everything for DSD128. See if everything is correct, Dylan! Take care of yourself!
(upload://oMbkO1dUytyIrRdxvq2SRb3rPW8.png)
Dylan, hi! I'm starting to worry about you and your health! Are you all right?
Hi @Sergei_Khludeev,
Apologies for the delay here!
To be clear, this isn't the same issue as what happened previously with DSP settings disappearing, but rather the music is stopping during playback?
Are you receiving any error messages during this time? Or does it appear to be playing but there is no sound?
If you disable DSP completely as a test is there any change?
Hi, Dylan! No, this is a new problem! But it looks like I figured it out thanks to the ROON FAQ! I had a browser open on my computer and it consumed the most resources. When I downgraded the oversampling from DSD256 to DSD128 it got much better. But sometimes there are still seconds of audio delay when working with the browser at the same time. I thought I had a powerful processor

This topic was automatically closed 36 hours after the last reply. New replies are no longer allowed.