Roon Core Machine
QNAP TS-873
Networking Gear & Setup Details
ASUS RT-AC66U B1
Connected Audio Devices
Bluesound Devices
RoPieee
Number of Tracks in Library
~70k
Description of Issue
I don't normally edit albums myself, but I was adding credits to an album I ripped and noticed some strange behavior.
It is with this screen: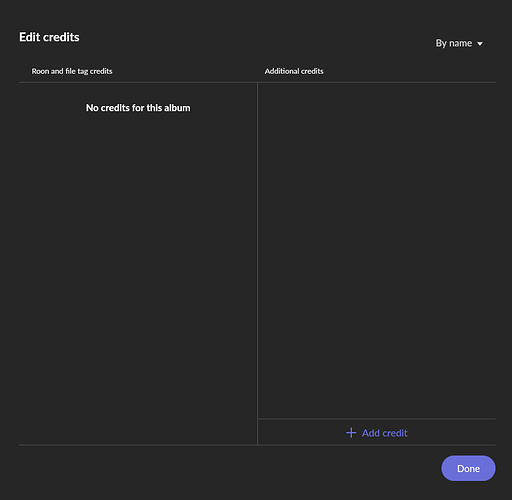 I click on "+ Add credit" and a list of names appears then I can filter down to the person I want or add a new entry. This works fine for several credits but then suddenly the list to be filtered becomes blank and also when I try to create an artist nothing happens. I can re-create this but it seems to be independent of how many people I add.
I did notice that the list to filter would eventually appear sometimes if I wait long enough. Seems like this shouldn't happen but I wanted to let you know.
Let me know if you have any questions.