this problem is happening again
Hi @Shawn_Kernes,
Can you provide some setup details? Can you share a screenshot of what you're seeing? What devices are showing an error?
I have attached a screenshot of the "about roon" screen which i think also provides baseline setup detals. What else do you need?
I would note that based on activity in the various roon related facebook forumns, it appears everyone (or at least most people) are facing this issue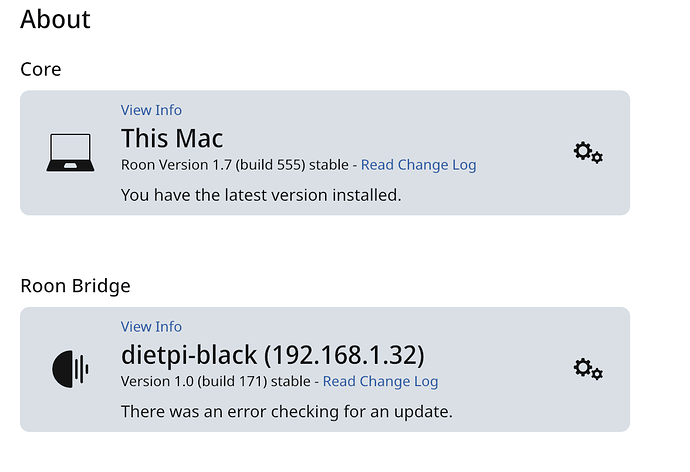 Hello @Shawn_Kernes, thanks for your report! We have a ticket in with our team about this. There is no update actually available for RoonBridge, but it is reporting an update error. We are still investigating so I can't provide any timelines just yet, but we'll be sure to keep you updated.
Hello @Shawn_Kernes, the issue is still being worked on we hope to release a solution soon! Thanks for checking in.
Hello, I am experiencing the same behavior: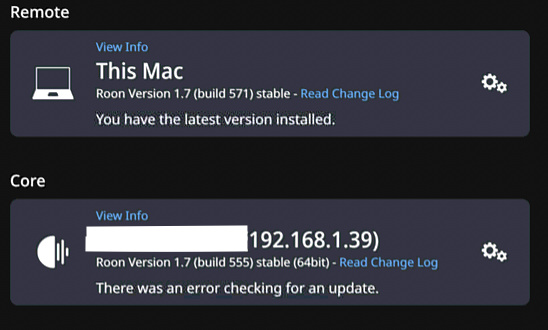 Thanks for investigating. It does seem Tidal is not working either since this happened.
Same Problem here!
Also Version 1.7 (Build 555)
Thanks for checking this!
The exact same behaviour is happening again with the newly released Version 1.7 build 710. Was there ever a solution mentioned?
This topic was automatically closed 365 days after the last reply. New replies are no longer allowed.