I have a Nucleus on my home ethernet network. I have all of my music on a large RAID drive connected to an old MacPro via Thunderbolt. I had a catastrophic failure of that drive a few days ago but, fortunately have another RAID drive that everything is duplicated on to. I had the Nucleus watching a variety of folders on the external RAID drive connected to the MacPro via network shares (iTunes, Qobuz purchases, ripped CD's). Obviously those are all broken now due to the drive failure and I have to recreate them for the new drive. I am also now getting back-up failures as that folder was also located on the external drive.
Every time i have tried that running Roon on my MacPro (as before), I get the "There was an unexpected error" message. Have worked my way through all of the related support docs on this site and still can't get it to work. (rechecked the file sharing window and added the drive and the folder, ran terminal command for full disk access for smbd, etc). The system worked just fine a few days earlier with the previous drive. I think the system did update to Monterey a few days ago.
MacPro is running MacOS: 12.2.1
Screenshot of failed attempt follows: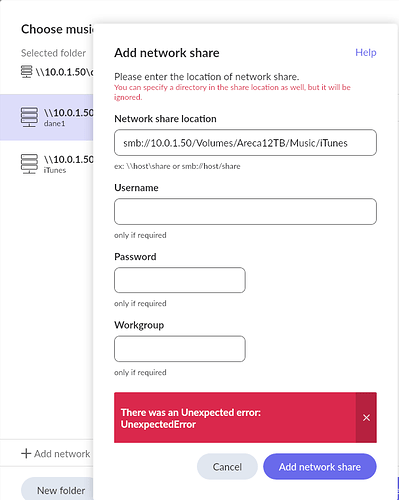 Any help would be appreciated.