Like to know if it is possible to export the playlist from Roon into ITunes
Roon will happily export your playlists and music files into a .m3u file with relative file paths. I don't know enough about ITunes to know whether this is something that works well with ITunes. One thing to be aware of is that we'll also write out another copy of all the music files in the playlist, which may be good or bad depending on your situation.
Here's the knowledge base article on exports: https://kb.roonlabs.com/Export
What @Ben said for the export part of procedure.
Now, in iTunes, click on File > Library > Import Playlist. Now navigate to your Roon Playlist Export Folder. Open the Playlists folder and select the .m3u file for the Playlist and click Open.
This should import the playlist to iTunes for you. It will also import all the music.
You can also select multiple playlists at once for export.
Cheers, Greg
It does not seem to work anymore, and the export option is gone.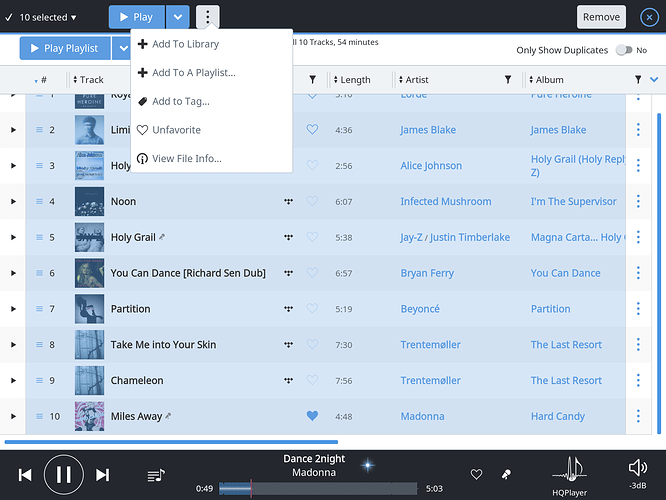 This is a playlist created in Roon, and I would like to share or export it to my friend.
EDIT:
https://kb.roonlabs.com/Export
"Because TIDAL content is not stored locally, it cannot be exported."
So I suppose the question is:
Will sharing or exporting playlist that also contain Tidal tracks be a future option ?
This was a mistake. It will be back soon. Sorry about that!
Once the Export button is back, you'll be able to export any local tracks in your playlists, but obviously there's no way to export a TIDAL track.
All — Please be advised that this should be resolved with the latest build, "build 262". Please share your observations with us after updating.
Many thanks!
-Eric
I'm able to export a playlist (containing only Tidal tracks) to an Excel file, but there is no option in the three dots menu to export to an M3U or similar format, meaning (I assume), there is no way to export and later import a playlist. Any suggestions? Perhaps a known problem?