This has been mentioned in various threads previously, and I mentioned to @mike in this post about how roon's 'popular' section often differs either slightly or entirely from other services. Have option to always show "Top Tracks" - #77 by Cameron_Oatley
Its great to see that the latest update added a "my library only" option, so that fixes half the issue that was originally occurring, but it still does not change the fact that the 'popular' section often has tracks that don't line up AT ALL with other services.
As a result i'm still having to keep spotify or tidal open alongside roon to actually find out what an artist's popular tracks are, because Roon's seem to be mostly random, whilst other services are usually mostly in agreement…
PLEASE can we get at least the option to feed top tracks from Tidal or Billboard data. The whole point of the 'popular' section is to show what tracks are…well…popular. But when an artists most popular song on other platforms isn't even on roon's 'popular' list, it clearly isn't working.
Having roon simply display the top tracks from Tidal or Qobuz would be MUCH better than the current system. Please can we get the option to do this, or the behaviour fixed so that the results align more closely with what other services are showing.
A few examples of Spotify/Tidal being similar but roon being different:
1. 20SYL
Tidal:
Spotify:
Roon:
2. Claptone
#1 track is correct then everything else is different
Tidal:
Roon:
3. Freddie mercury - 'Living on my own' isn't even showing at all in roon!!
Tidal:
Spotify:
Roon:
4. Her - NONE of the top three tracks are showing in the popular section for roon
Tidal: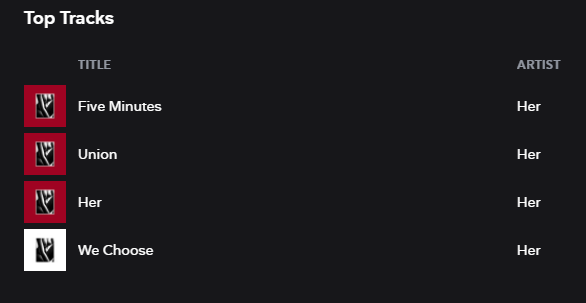 Spotify:
Roon: