Me too. Often to find out what's missing from Tidal…
Same here, a bit annoying. (iphone XS)
I've reproduced the tapping issue, we'll get it fixed

Also translations missing on the new feature (Settings + all INFO tabs).
Really nice addition to Roon, congrats!
we will get them in, once we settle on all the copies and stuff. I don't think we are there yet, but thanks for the reminder
I think this is great as well…I plan to keep both "active" and then decide if I like using one more than another. I do think the "short and sweet" Tivo is a nice place to start, but also enjoy some of the extra depth you get w/Wikipedia. I am impressed how the hyperlinks work so well in Wikipedia to jump to other artists. Def a nice upgrade IMO having choices.
thanks,
D
Indeed, I was expecting some mess with artist equivalence but as far as I have tried it all worked perfectly
I'm just loving the new Wikipedia feature. Best update for me for years. Thanks team Roon.
Is someone looking at why the iPhone renders 3 lines at the bottom of main text on album reviews and doesn't switch the main body it's always TiVo?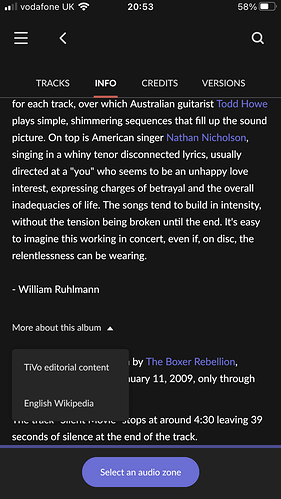 I was idly looking through obscurities in my library and had half forgotten the new feature. Then I clicked an early 70ies collection of German industrial folk music, not expecting any insight from Tivo (my default) and up came a comprehensive Wikipedia page in German.

Thank you team Roon
Same problem with Android.
Thanks, for pointing this out! I've found some other issues with the mobile version of the feature that we're also sorting out.