120 and 135, from my archives. Haven't shot a roll of film in years, but mainly make my living these days selling fine art prints from when I did. Sadly had my $12k Imacon scanner motherboard go south on me last month, with no replacements anywhere in the world. Now have a dslr scanning setup with a Nikon D850 which is good, but not exactly the same when it comes to large blowups.
That's a great shame your Imacon died. I imagine there isn't the spares to repair, let alone the expertise. I haven't used DSLR for scanning but have good success with V800 for 6x6, though I suspect my need isn't as critical as yours.
Do you ever get tempted to pick up a film camera again?
Check out the Negative Supply options for camera scanning - they build some pricey but unique film holder/transports that work well. I have the 35mm one and a Kaiser slimlite panel, and use the Negative Lab Pro Lightroom plugin for conversion. I did get an Epson V850 but not that impressed with 35mm but works better with 120. I actually MacGyvered some spare Imacon film holders to work with it as the Epson ones are so fiddly. Here's a pic of my dslr scanning setup. I haven't been tempted to shoot film for years (my main squeeze is a Leica M10 now) but with this in play I am kind of intrigued now. I still own some 120 film cameras but no 35mm.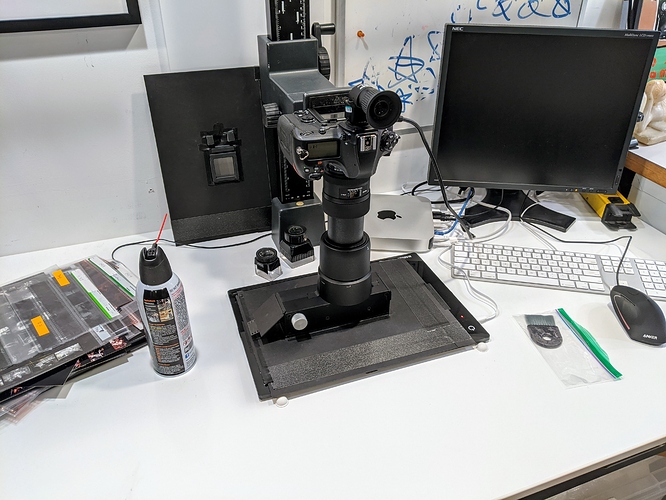 That looks a great set up and I believe so much quicker than using a dedicated scanner. I have a Plustek 8200 for 35mm but it is so painfully slow. I've all but given up shooting and scanning 135 now.
It's a shame not to get those 120 cameras back in action again…
Up your elbows in smelly chemicals, that was the day. I used to process all my own film, trannies and prints 120 & 135 it was fun but a labor of love

Yes, it's much much quicker. Just extra sharpness at the end as the CMOS sensor isn't as sharp as the Imacon CCD or a the PNT of a drum scanner. But dynamic range seems about the same. I'm editing for another book of my grunge archives so this will speed things up dramatically, even if the Imacon was still good.
I was a master darkroom printer (some of my images have upwards of 25 dodges and burns) but the good ol' chemistry was also slowly killing me. Something to consider (and the color stuff, albeit less odorless, was the worse).
I have a CanoScan FS4000US that I use to scan negatives.