Core Machine (Operating system/System info/Roon build number)
MacMini (Late 2012) 2.5 GHz Dual-Core Intel Core i5, OSX 10.15.7
Network Details (Including networking gear model/manufacturer and if on WiFi/Ethernet)
FiOS (Ziply) Gigabit & Wi-Fi using Airport Extreme/Time Capsule (v. 7.9.1)
Audio Devices (Specify what device you're using and its connection type - USB/HDMI/etc.)
Roon Bridge: MacMini (2018) 3 GHz 6-Core Intel Core i5
into Schitt Modi Multibit (or Cambridge Audio DacMagic Azur) via USB
and into AUX inputs of various (mostly vintage '60s/'70s) amplifiers/receivers (via switch)
Description Of Issue
Even when playing an entire album all the way through (no changes in format or resolution between tracks), there's a slight delay that cuts off the first approximately 0.2 seconds of each track. I can see the red marker move to start playing the track, but the sound does not begin until slightly into the track (see attachment).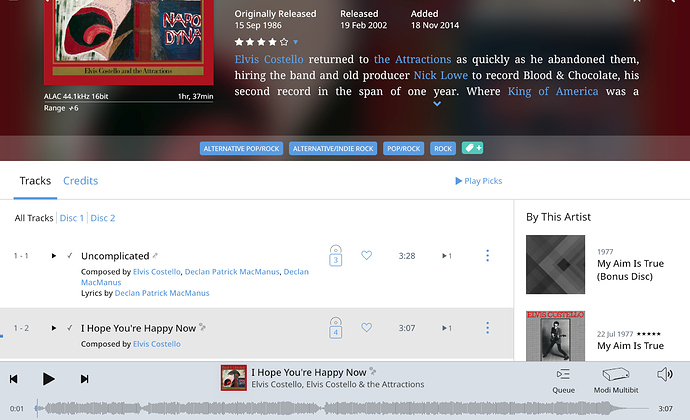 If the track has a second or so of silence before the music begins, this is not a problem, but if not it chops off the beginning and I have to use |< to re-start it properly. After looking around at other people's similar problems, I tried setting a 1000 millisecond delay for changing resolution/format, but that doesn't address the issue.
Is there a way to get Roon to buffer the next track before it starts playing, or to add a second or two to tracks to give Roon time to catch up? Not sure what the best approach would be…
Thanks.