Core Machine (Operating system/System info/Roon build number)
ROCK
Network Details (Including networking gear model/manufacturer and if on WiFi/Ethernet)
Ethernet to NUC
Audio Devices (Specify what device you're using and its connection type - USB/HDMI/etc.)
MacBook Pro, iPhone 8, Chord MojoPoly
Description Of Issue
I purchased the Ella and Louis album years ago as a DSD download from, I think, Super HiRez (it is a wonderful version). In the last year, I have come to learn that four tracks are corrupted and (worse yet) my back up copies of those tracks are also corrupted.
In an attempt to make the album whole, I found FLAC copies in my library for two of the four tracks (They Can't Take That Away from Me and The Nearness of You in red) and incomplete DSD copies for the other two (Cheek to Cheek and April In Paris) as I don't have those elsewhere in my library. How I could not have another copy of April in Paris… that's a different topic.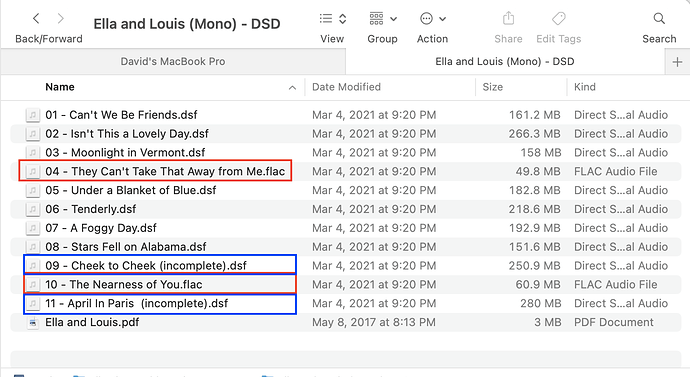 My technical question is that the FLAC copies in red do not appear in the track listing in Roon below. That seems strange to me as Roon should not different the tracks based on the codec.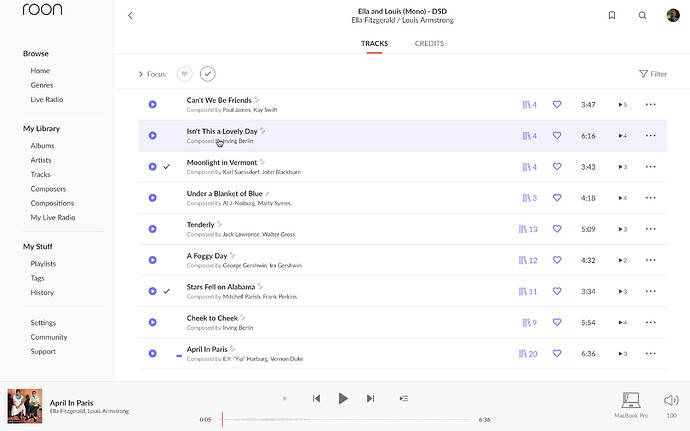 Any thoughts on how I can get the two FLAC tracks listed under the album? Even more important (but not technical in nature)- anyone know where I can get another DSD copy of the album?