Innuos Zen Mk3 1TB 1.4.7 Roon Core 1.8 (764) Remote M1 Macbook Air 1.8 (764)
Network Details (Including networking gear model/manufacturer and if on WiFi/Ethernet)
All ethernet from router through x1 Netgear unmanaged switch
Audio Devices (Specify what device you're using and its connection type - USB/HDMI/etc.)
Ethernet from Innuos Zen Mk3 to Naim NDX 2.
Description Of Issue
Hello,
I just been exploring 1.8 over the last few weeks and have noticed that when I focus on my Innuos located Music Folder under Storage Locations some of the stored albums are missing. They are physically there on the HDD (confirmed by looking at the folder).
Example:
Elton John Mad Man Across the Water on HDD and a Qobuz version. It can be seen under versions but not when looking at the Music Folder using focus. If the Music Folder version is made primary or the Qobuz version is deleted, it suddenly appears under Music Folder focus.
Also, my Album numbers don't seem to match.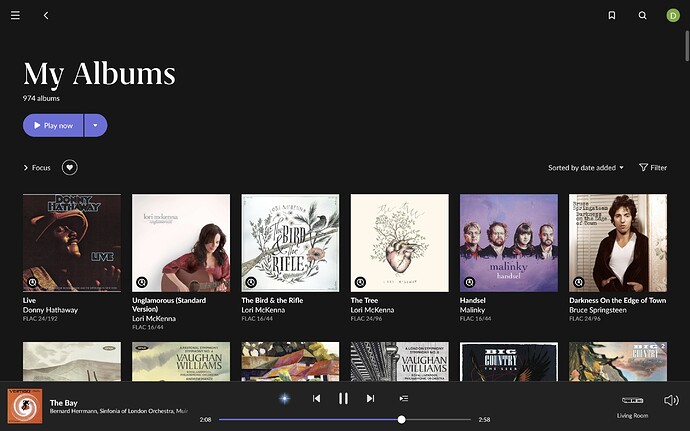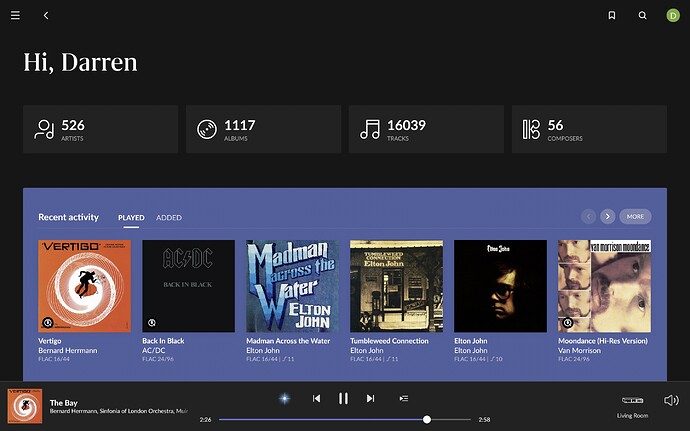 I've rebooted everything. I've forced a re-scan of the Music Library and I've performed Library Maintainence.
Im hoping this is a case of a 50 year old not understanding how to use Roon!
Thanks everyone,
Daz