Yes, I had a pair of cocker spaniels. What a magnet.
But the ultimate was Boomer, just melted hearts.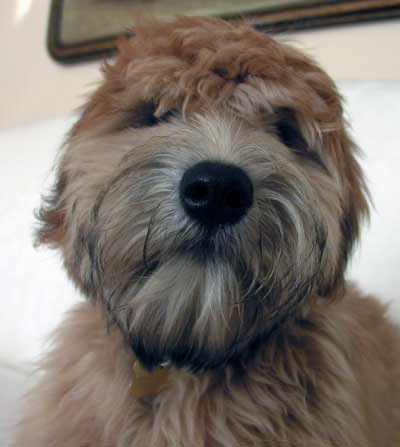 Too nice a day to NOT knock off early and have a "beer" with my dog. Miller Lite for him.

Belgian triple for me.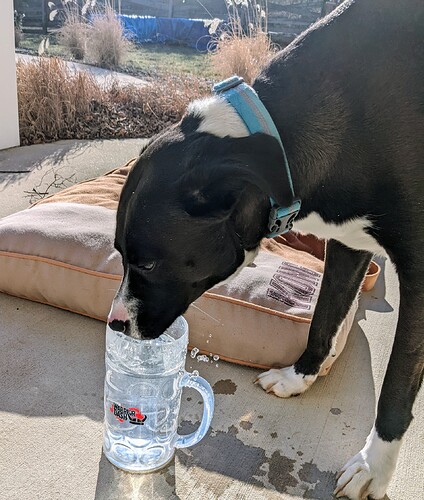 A place for photos just taking off….
If I was the Wombat I think I would be pretty chilled also.
Well, he's grown! Sure hope he's alrite, considering the "collar"?

Ah, the cone of shame… Watson's wearing one as well at the moment - he will insist on licking a hotspot on his leg…
Chewing on their foot and licking is very problematic but there is a reason.
The most common is allergic dermatitis. The vet likely knows this.
Might be asking an obvious question here Carl, but have you approached your landlord directly about pet ownership?
I've found that, despite "no pet" clauses, some landlords are OK with responsible pet owners and will make exceptions.
Canton, GA
Athens, GA
Greenville, SC
Soon: Boston, MA
Another day, another black cat shot.
The tailless monster, Sid, has pinched a prime sheepskin spot from our grey, old-man, special-needs Kev. This kind of eviction is a daily activity and as Kev weighs half what Sid weighs, the outcome is inevitable. Kev does put up the occasional, short-lived, perfunctory paw of defiance, but mostly respects that there is a natural order of things around here. Feline politics is always amusing.
Kev sauntered off to find a sunny window spot to slob in. He runs his own race, bless him.
So here we have a rare on-lap event from the tailed-one, Madge. She must be chilly. She's normally a sit-by-your-side type of moggy.
I'll take the wins where I can.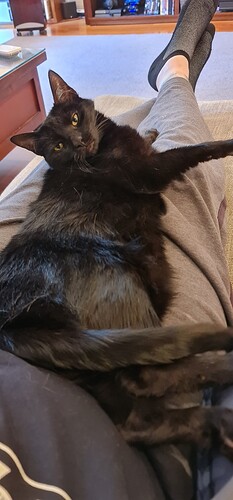 Figured this would give everyone here a good laugh.
So, I got a new bed for Boone and we were all excited that he seemed to like it and started sleeping in it right away.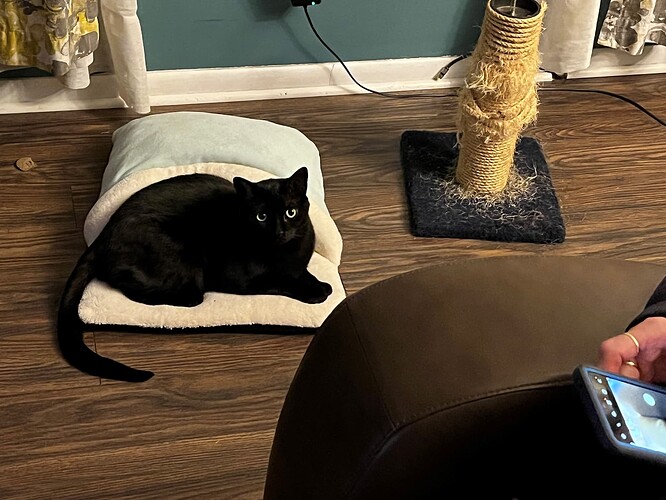 A few weeks later, I was looking for my Groot around the house. I couldn't find her in her normal spots and then I found this.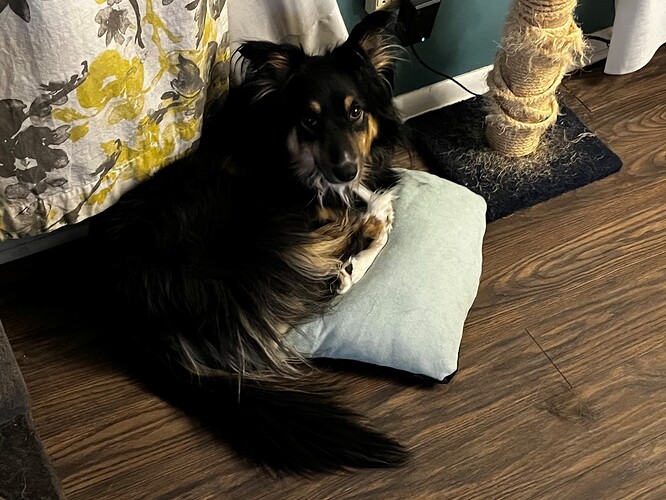 I guess she wanted to try the new bed out and was a little bit jealous all while giving me the what you looking at Willis look

Hi Graeme, sorry I forgot to answer. The short answer is no, I've been meaning to but had a tricky second half of last year with work and home. In a position to now but there's every prospect of moving and buying soon so am holding off as I don't want a cat that returns here. I think the landlord would be OK with it BTW, he's easily the best landlord I've had, though he's the first one for a lot of years.
Anyways, I'm hoping to be able to post pet piccies soon. Here's a now very old cat who used to be mine who now lives with my sister: