Listed for sale are two Amazon Fire HD 10 tablets that I have used as Roon remotes. With a second Nexus 7 and two additional Motorola handsets being added to my stable in the past month, I need to pare down my Android collection. Hence, these minimally used tablets need to find new home(s).
I already have done the bit of sideloading work to get the Google Play Store app installed on the tablets, so you have available the whole wealth of apps (Gmail, YouTube, etc.) in the Google Play Store. Unlike new tablets straight from Amazon, these tablets are not restricted to just those apps in the Amazon Appstore. Additionally, with both the Google Play Store and Roon Remote apps already installed, future updates to Roon Remote can be downloaded and installed automatically – no further sideloading required.
The tablets work well as inexpensive yet large screen Roon remotes. They even can serve as self contained endpoints for causal listening – because their stereo speakers are optimized for landscape orientation. And with additional album covers menu setting enabled, the tablets can display 24 album covers on screen. See screenshot: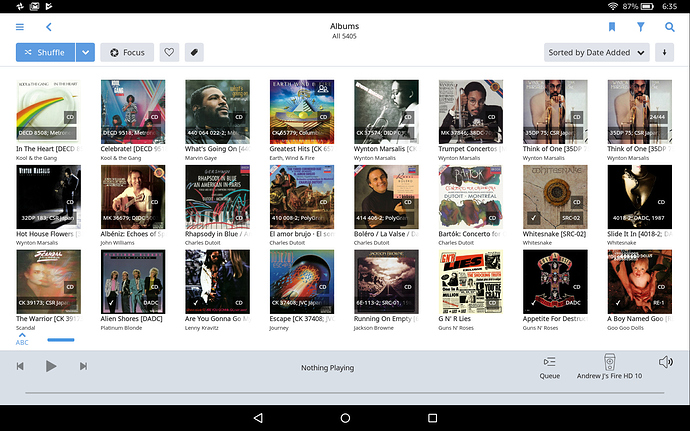 Color is punch red, and condition is very good for both tablets. Screens are excellent. Plastic housings are very durable and show minimal wear from use.
See full specs (10.1' display, 1920 x 1200 resolution, 32 GB storage, 2GB RAM, etc.) at Amazon:
Price: $80 each or $145 pair
Payment: PayPal
Shipping: US only
AJ