This may seem like an odd audio component to be put up for sale in the Roon Community. And that is true on several levels.
It is a multichannel SACD player – the last great one from Sony, massively built – and it is not Roon Ready in any way, shape, or form. However, it does output two channel and multichannel DSD via HDMI. And that is why I think it could be of interest to certain members in the Roon Community.
Even more odd, the player is effectively brand new old stock. The box has been opened, but the player never has been used. See the photos. Protective sheathing and plastic wrapping still intact. Remote, power cord, and manual still sealed. I bought this player for a multichannel music/home theater system that never came together. And so there it has lurked silently inside its box for years.
Back to DSD over HDMI, either two channel or multichannel, that just does not work from a Roon core computer HDMI output to an AVR/pre-pro HDMI input. The core computer HDMI output cannot negotiate the HDMI DSD EDID handshake with the AVR/pre-pro HDMI input. So, DSD gets converted to PCM. DSD over PCM (DoD) could be possible from the core computer HDMI output to the AVR/pre-pro HDMI input. But good luck finding any AVR/pre-pro anywhere in the world that accepts DoD via HDMI.
So, if you still have your SACDs and want to spin them for DSD output over HDMI to your AVR/pre-pro, this is a player for you. Just ensure that your AVR/pre-pro HDMI input is DSD capable. Some are not, and in that case, the Sony player will negotiate an HDMI PCM EDID handshake, thereby converting the DSD to PCM. Back to square one, the same as the Roon core computer converted PCM output.
Or if you want to forgo HDMI and go analog into a preamp, the player also has a well regarded two channel DAC and analog output section with both RCA and XLR outputs. Again, see photos. Be aware that the DAC and analog output section are purely two channel. This is a multichannel SACD player via HDMI output only.
Read Kal's Music in the Round review in Stereophile and see my photos taken today:
https://www.stereophile.com/musicintheround/music_in_the_round_36/index.html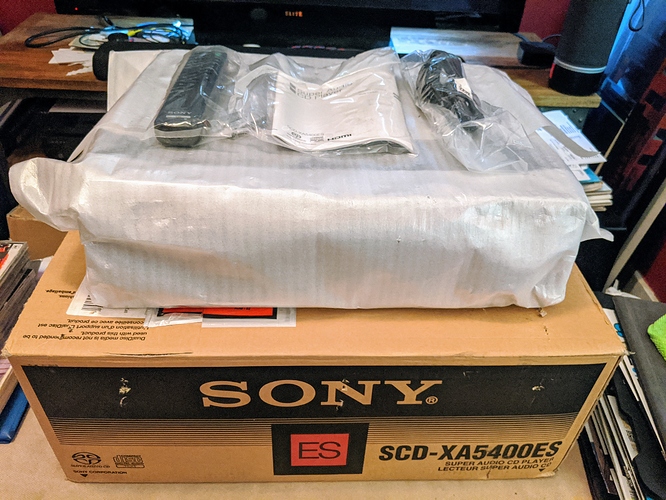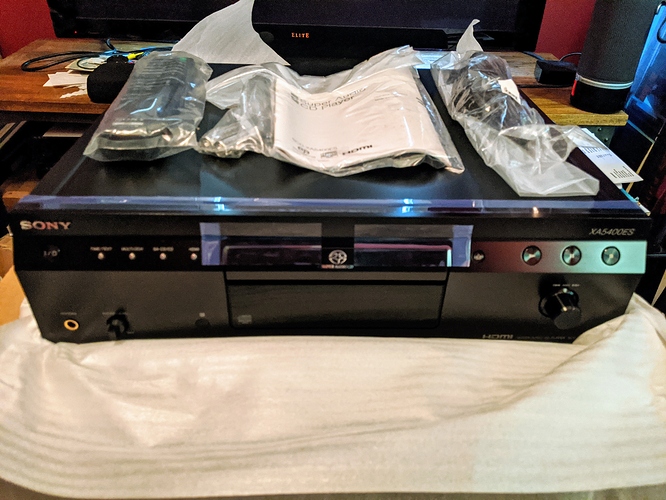 Asking price is $1050. Buyer pays FedEx Ground shipping costs based on location in the lower 48 states. I will cover PayPal fees. This is a good price for this last of its kind Sony multichannel SACD player, especially for the brand new old stock never been used condition. Prices on eBay and Audiogon are higher for players in lesser condition and/or often intended for and located in Japan, thus require international shipping and may need an electrical transformer.
AJ