Most of my listening these days is done on a stereo pair of OG HomePods (don't ask – another day, maybe). Lots of Apple Music for the family – but of course Roon is needed in my life as well. The two current solutions for sending audio from Roon to a HomePod stereo pair (either creating an aggregate audio device in macOS MIDI settings or grouping the pair in Roon and enable DSP to mute the right channel on the left HP and vice versa) both have drawbacks and stability issues.
After a bit of tinkering I ended up with an old iPhone 6S on a dock, running iOS14. It is enabled as a Roon audio zone, while audio is routed by iOS to the HomePod pair via Airplay (iPhone > HomePods). This little endpoint can of course be addressed by other Roon remote devices (duh) – but also exposes the Now Playing applet on the lock screens of other iOS devices, once you select the HomePods zone via the Now Playing applet in Control Center ('Control Other Speakers & TVs' – in this case, Living Room is the HomePod pair selected on my iPhone 12 Pro Max):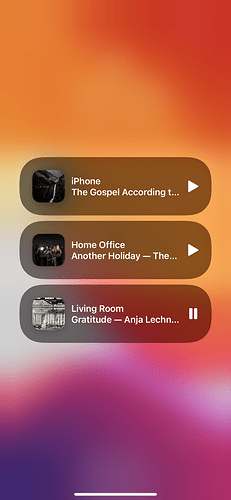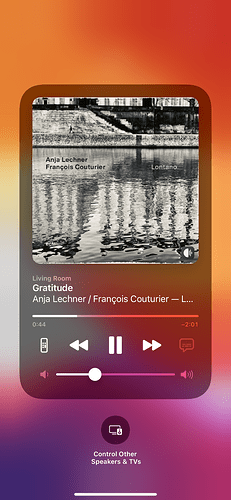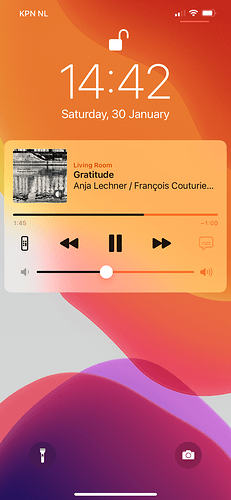 Metadata present (note the little Roon logo on the artwork), track and volume controls operational. A few drawbacks: playback is limited to 44.1kHz (Airplay) and volume control in Roon does not work. You can control the volume in the iOS Now Playing screens however.
Extra coolness: the two remote control knobs from Teenage Engineering that I had laying around do work as full Roon controls once paired by bluetooth to the little iPhone Roon zone (volume control by turning the knob, play/pause (one click), next (two clicks) and previous (three clicks)).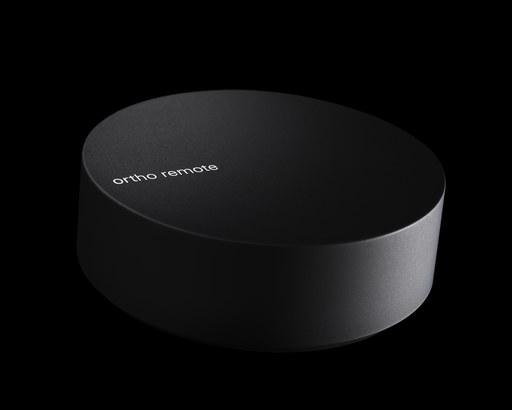 I actually like using Roon with the HomePods now, instead of fighting them. That's progress, I guess.