Whilst looking at a sad puppy. Double downer.
You think that's bad? If I ever find out who the hell produced an algorithm that thought I would listen to this, things could get messy!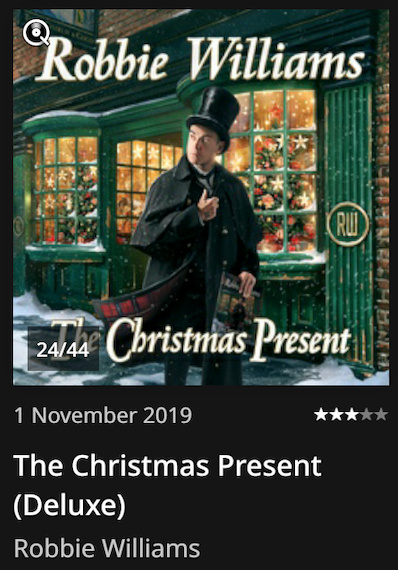 I can't believe that there is nothing released in the last 30 days (apart from the Stones) that I might be particularly interested in. (sorted by relevance)

I'm a bit tired of seeing Colorado and Western Stars at the top since 1.7 released.
.sjb

OMG! What world do we live in!?
FWIW… Started with Camp Claude and Valence is taking me through an amazing rollercoaster of things completely unknown to me that I am LOVING!!!
Almost all of my NRFY are Classical, so I'm happy. However, that Rod Stewart album got snuck in somehow, so I instantly dismissed it from the list…
I'm enjoying the suggested albums most of which i wouldn't have come across by myself.
I've also got Colorado at the top since a week or so…

Apart from Guided by Voices I have exactly the same recommendations.
I found some nice tracks in the singles recommendations though.
Navigate to an artist and you'll have the recommendations listed above the artist's album list. Like nah, you didn't really come here for this artist, did you now…here, this is what you actually came here for isn't it.
I also love the suggested albums when viewing albums in my library!
For a week or so, it seemed to be getting to grips with my tastes, after the ubiquitous Celine Dion starting point. But now I am being recommended the Robbie Williams AND Kacey Musgraves Christmas albums! Plus a load of classical. I never listen to classical music (or Christmas albums).
I see both of those albums in Roon too. I have never before listened to, navigated to, or in any way shown an interest in either of them, or in any other Robbie Williams material. That raises the ugly idea that Roon has a commercially driven reason for pushing music at us, and it seems to me that this would be the only reason we both see the same two highly commercial albums in Roon. Not the Tidal or Qobuz apps, just Roon.
@ChrisSU and @Philip_Kent this topic was about "Funny Valence album suggestions…"

You should create an issue in the support section.