Core Machine (Operating system/System info/Roon build number)
Intel NUC6I3SYH 8GB / 250GB SSD - 1.7(505)
Network Details (Including networking gear model/manufacturer and if on WiFi/Ethernet)
NUC connected to Meraki switch and client connected to Meraki AP, switch connected to Palo Alto firewall.
Audio Devices (Specify what device you're using and its connection type - USB/HDMI/etc.)
Audiophilleo2 USB from NUC to Audio Note DAC via spdif
Description Of Issue
All this has started happening since updating to 1.7
Client on MacBook takes in excess of 1 minute to connect to core and searches are quite slow.
Searches also seem quite random, just this evening searching for 'The The' and it can't find anything. I don't have any The The albums in my local storage so it should return Qobuz results…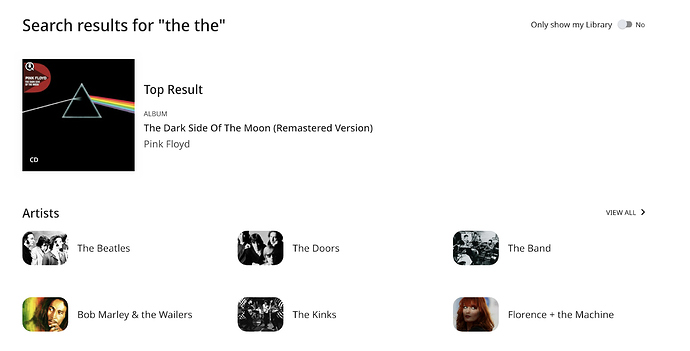 But if I search for one of their albums 'mind bomb' it finds it ok and I can go to the group via the hyperlink