Hi,
I updated Roon to 1.4 (build 310) about an hour ago. I am running Roon Core on a NUC machine with Ubuntu 16.x.
I added about 40 albums to my database since the upgrade was done. For some (two to be precise) albums there are multiple genres displayed although I use the genre settings: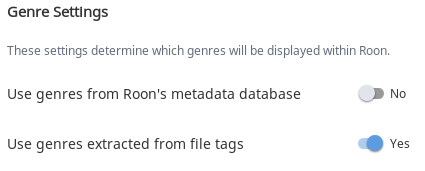 Examples:

I only use the genre "Pop" in my files.
I only use the genre "Rock" in my files.
All the rest of the imported albums show up correctly with only one genre corresponding to my files.
Any help is appreciated.