I have a question: why the "go to composition" button (after the three dots at the right of the track) is not always there?
for example

and, in the same album, the following track:

in this album i thought that tracks with only one performance do not have the "go to comp." button, but it's not so. in fact, the last one:

so i suspect that not all the tracks have a corresponding composition. is that so? it doesn't make much sense.
another, more complex example: i have 2 versions of the same album (both identified):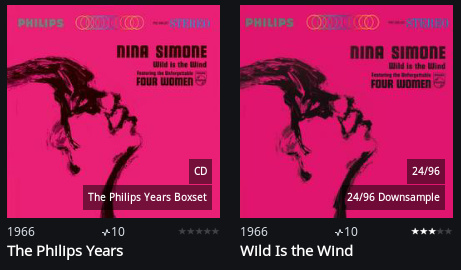 if i look at track in the first one i get

here clearly there's something wrong, since all the tracks/compositions should have at least 2 performances. the point is that (i suppose) they are not recognized as the same composition. but it's difficult to check, as in the first album there's no "go to composition"

while in the second album there is:

sounds strange… the title, the composer, the performer, the album are the same…
finally, if i go to the compositions page (and filter as composer sol marcus, which for BOTH albums is reported as composer of the first track) i get

this confirms that the 1st track of second album correspondo to composition "i love your loving ways". but there's not another composition (with same name?) from the first album: that one HAS NO COMPOSITION.
i think there's something wrong here…
and looking at the other compositions in the same screenshot, you can notice from composition "i'm blessed" that i have two versions of another album

but all the other tracks of that album present a similar problem, as the composition is recognized in only one or the other of the albums. with the exception of "don't let be me misunderstood", that is recognized twice, as two different compositions.
i understand from the posts in the community that in general there is a problem in composition identifications (that in general requires a merging operation). but here it's seems to me a different problem: the composition is completely missing, so it's even impossible to merge anything.
i add that i write this now, but it's not at all an isolated case: i've notices many many similar tracks/albums/compositions. but as i'm new to roon, it took me a while to figure out the problem and the question for the support.