Geez, where does the time go?
Happy 5th!
Cheers, Greg
I joined Roon Community on Jun 1, '15 but I can't find the date I bought my lifetime subscription which would have been before my join date.
May 12th is the day, it appears: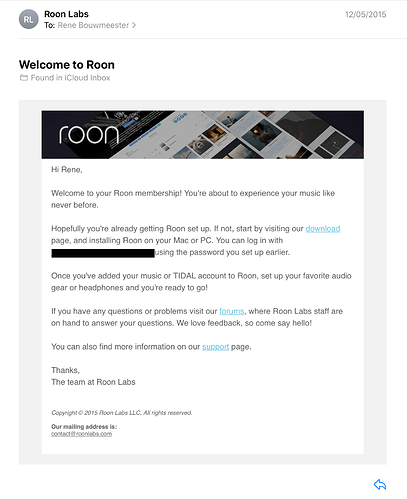 I remember getting the mail about 1.0 being released, downloading Roon, slapping it on my MacBook, muttering 'Yep, that works' and buying lifetime – all within 10 minutes or so. Roon was only available as all-in-one app for Windows and Mac back then, but it worked with Tidal. Yes, we've come a long way since then.
(Of course it helped that it also worked flawlessly with my Meridian Sooloos streaming gear – and that the costs of the Roon license and a Mac mini for running a headless core were easily offset by selling the old Sooloos core device…

).
I joined the Forum July 6 2015 after buying an annual subscription. I changed to lifetime in the first month and have never regretted it.
Roon has come a long way since then, and has a lot yet to do. Looking forward to the next 5 years.
Yes, congrats.
Beta user since 23rd April 2015
Community member since invited to join 3rd May 2015
Annual Subscriber from 12th May 2015
Account unification 4th October 2015
ROCK user from 1.0 27th May 2017
Converted Annual to Lifetime 6th June 2017
Used daily across multiple zones & different hardware endpoints
(i.e. it delivers on the vision from 2015!)
How time flies… my Lifetime paid for itself already too…happy camper with an i7-7700 Fanless MOCK as my main server but have used Mac/Windows/NUC-ROCK and even NAS installs in the past. Roon just keeps getting better, not that it wasn't all I needed when I bought in so many years ago.
Happy Birthday guys!!!
In my 4th year and still loving it, the ability to listen to my music anywhere in my house and so many different devices is priceless, heres to another 5 years.
I will be in my complete 3rd year in September. I went from trial to lifetime. I thought it would work for me within the trial period, so I didn't see the point of paying for one year subscription: From A to C without going through B

I bought a lifetime at the end of my trial period back in February 2016. Very happy with the investment gamble.
Happy belated fifth birthday.
It took me until Sept 15 to shell out for a lifetime subscription. I'm really pleased that I took the plunge. Until setting up a NUC last year (inherent laziness being my only excuse) the full "wow" factor of Roon was never apparent in my house. Even with a Raspberry Pi3 tethered to an Oppo 205 and fed music from Roon on an iMac by wifi the experience was sometimes a stuttering mess. My partner often gave up. Her muttering and general head shaking dismissal relegating Roon to being another "what the hell is he bothering with that for?" looks.
Now with a NUC8i7, RPi4 running Ropiee XL the Oppo player a Rega Elex-R and very old Celestion 3 speakers (hey they still sound great) and a brand new huge iPad Pro to control things it gets used all of the time, and not just by me. Job done!
Many happy returns and thanks for all the pleasure!
I joined at the beginning after beta testing from Sooloos. It's been great to use and enjoy Roon and witness the service evolve over time to the product we have today. It will be great to see where it is in the next 5 years although I'm not wishing my life away…
I joined exactly 5 years ago, bought a lifetime subscription 2 years later. I have never regretted it for a minute–I am enjoying my music collection as never before. There have been some glitches along the way, but thanks to the forum members and Roon's excellent support team, I've been able to resolve them all (mostly network-related). Thanks to all for a great ride!
missed a full year: only joined on June 2016

Happy Birthday, Roon

hope decades to come!!!

I was quite skeptical about what they said about Roon, anyway last November decided to give it a skeptical try, next day became a lifetime user.
Happy birthday Roon!
I'm in my third Roon year, so late to the party - but enjoy it so much that I committed for life time.
I design and develop digital services and products for a living. Roon is on my list of reference companies who do the right thing right. Yes, this is a huge compliment from a German


Thanks to the founders who had a vision and the guts to find and hire some people to build it. Thanks to the engineers and designers and testers who created this amazing piece of software, infrastructure, pleasure. Thanks to the forum admins to keep this place an exeptional one. And thanks to all the customers and music lovers. Without you, this would not exist.
My wish list is to long, but obviously they need no advice, so I just want Roon to be alive and thriving in five years. Keep up the great work!
I joined just after launch having lusted after Sooloos but deciding that a kidney would be too high a price to pay for it.
Roon must have worked straight away as I didn't join the forum until Oct 8, '15.
I've made some virtual friends on the forum (Though weirdly their responses to my messages never seem to arrive) and enjoy the wit, wisdom and repartee on the forum. I also marvel at the forbearance of the moderators and roon support.
Here's to them!
My goodness, apparently I have been Rooning since July 2016. Seems like a lifetime (membership haha). Not perfect by any metric, but still better than anything else out there, so worth the effort to keep trying to approach perfection, if it will.
Congrats team…with many more anniversaries ahead.
Cheers.

Happy Anniversary Roon. I'm lifetime, I'm happy with the product and I love the fact that I can have a conversation with the people behind this product. My favourite snippet of Enno's birthday edition of the Roon Blog was the fact that Danny called him out on marketing Roon as working with all of our hardware. It is a level of transparency you don't see often in this (or any) industry. But at the beginning Roon attracted criticism for not working with others. Now the others do so for not working with Roon. That is seismic in this industry.