Roon Core Machine
ROCK running on Intel NUC 7i78NH, 8GB RAM
Networking Gear & Setup Details
Cox Panoramic WiFi modem/router with a Linksys SE3008V2
DS 216j NAS with dual 4GB drives
Roon Optimized Core Kit Roon OS 1.0 (Build 227) Stable
Version 1.8 )Build 1021) Stable
Connected Audio Devices
PS Audio Direct Stream Digital DAC with ethernet bridge
Ethernet over power lines via TD-Link AV-2000
Remotes are iphone, iMacs and a Windows Surface running Win 10x
Number of Tracks in Library
40,000 tracks
Description of Issue
I am caught in a vicious circle. My Roon server comes up with "Un oh, something's not right. Make sure your Roon core is turned on and that you're connected to the same network. Select a different core."
When I select a different core it gives the standard "…you won't be able to access the music you had before." It then shows me the Roon Optimized Core Kit on my network and says "ready." When I select "Connect" It says "Waiting for your Roon Core." and then it goes back to "Uh oh…" Las night, it was included the "Are you Online" screen as well.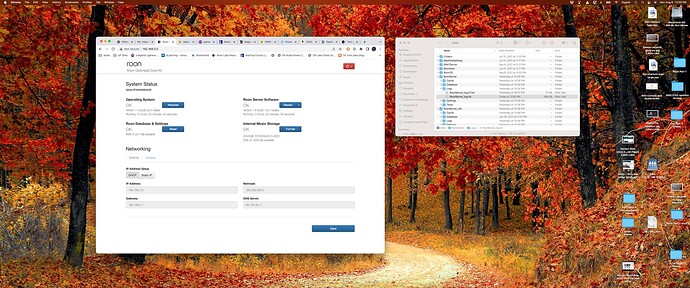 So, I am unable to even begin to restore a backup.
All of this was proceeded by some odd behavior after I returned from a month-long trip during which I shut down all my systems. I'd never seen the "Waiting for your Roon core" wheel until this past week. I attempted to make a backup but Roon wouldn't allow it (but I forget now the prompt). And I had to reboot my Intel NUC multiple times a day.
Guys, software is supposed to become MORE reliable as it matures. Roon is not doing that. Every time I travel I have problems when I return home.
Thank you!
–dc