I thought it might be a Tidal problem, but I've removed the Tidal service, and the issue remains.
Suddenly, I can't load any Albums (even those in my own collection). When I try, I just get a "Loading Album…" icon.
The Overview and Discover pages are also blank…
There's activity going on, Roon claims it is trying to identify 112 newly added tracks: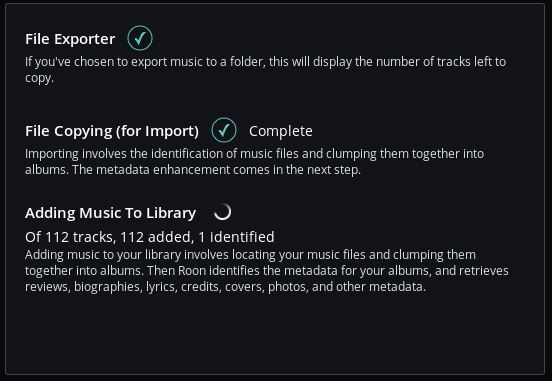 It's been like this for 30 minutes now, and Roon is showing about 20% CPU usage in Task Manager. This is RoonServer build 1.1 running on a headless server.
I've tried restarting Roonserver (and also the server itself) without any effect.
I had been doing some metadata editing (directly on the files, not via Roon). Has this caused a Roon database problem? I admit that I had not stopped RoonServer before starting the metadata editing, but this has not been a problem in the past. Perhaps best practice would be to stop Roon in the future.
Any ideas on how to fix this issue? Delete the database and start afresh?
Thanks.