Team Roon in attendance this year?
I have it on good authority that apart from @joel, tea is not on the agenda.
Actually, I'm more of an espresso man myself…

10+ pages of nice photo coverage for those of us not attending, here:
http://www.my-hiend.com/vbb/showthread.php?12471-2019年德國慕尼黑High-End音響展實況報導-Munich-High-End-Show/page10
A Nucleus gets some royal treatment… (not the Roon room/section/stall).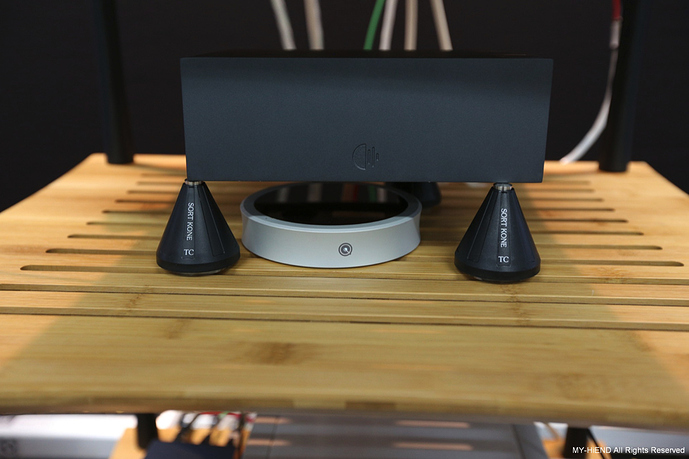 The photo gallery also shows MBL equipment. Wow. I am from Germany and have never heard of this german company. The noble line system only costs 135.000€ What is wrong with these people?
What's the round thing on the draining board under the Nucleus ?
That's there in the thread, under the Nordost room photos…

A quick and dirty look on the Nordost site leads me to this…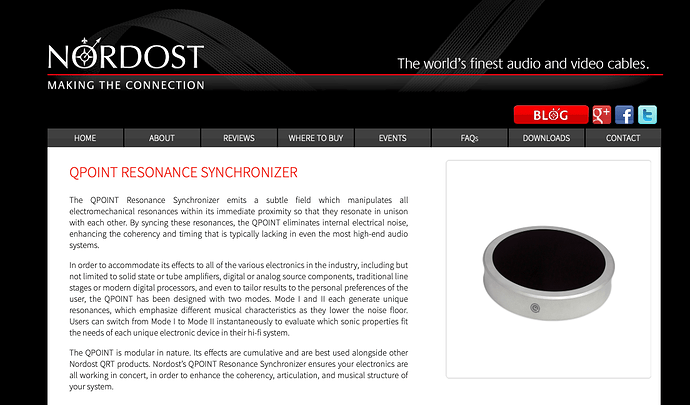 Incredible, I must have it

Lots of new photos added to the thread today. Another 10 pages or so added.
So the QPOINT resonance synchronizer must clearly improve the SQ of Roon's Nucleus products then? After all, according to the marketing blurb:
Every component in a sound system has several individually resonating parts within them. When these electromechanical resonances oscillate concurrently, but not in unison, these discordant vibrations become a source of electrical noise, resulting in smeared, muddy sound. The Q POINT Resonance Synchronizer addresses this problem by emitting a subtle field which manipulates all electromechanical resonances within its immediate proximity so that they vibrate in unison with each other. For maximum effect, QPOINT units should placed directly under or on top of targeted components, such as solid state or tube amplifiers, digital or analog source components, traditional line stages, or modern digital processors. Incorporating Nordost's QPOINT Resonance Synchronizer into your system will result in dramatic sonic effects, including enhanced coherency, greater dynamic range, more fluid musical expression, and greater space and ambiance in musical reproduction.
I can't wait for the results of the blind tests

If lying were fatal we'd be left with only a handful of hi-fi manufacturers, no cable vendors, perhaps one hi-fi magazine and nary a reviewer in sight.
I don't have a resonance synchroniser. Is there any point in carrying on ? Should I alert the authorities that unsynchronised resonances may have escaped ?
No where near as much as the precision slotted wooden draining board the whole kit and caboodle is mounted on! Of course the wood is selected from recycled Koetsu moving coil cartridges once they have absorbed a lifetime of musical vibrations. This exceedingly rare wood source is uniquely conditioned to dampen the aforementioned discordant vibrations. I couldn't exhibit at Hi End Munich but can make one for anyone. Prices start at 50,000 Euros please PM me for details.
Thanks for the link but I only got about a third the way through before I had to quit. I can't recall ever seeing such a collection of over-engineered junk in one place before. The creatively 'engineered' speaker cables and endless little supports did give me a laugh though. I can see that I have been doing 'cables' wrong all these years and must make amends.
Tarzan swings around there
I used to get jealous seeing 'selected' photos of gear/rooms of the Munich Show, that big magazine/websites would share… This thread linked above basically shows all the rooms at the show… And I'm not so jealous at missing it now…
There might be 3 rooms I'd be really interested in listening to… probably better to arrange a listening demo at a local dealer…
I was actually planning to visit the show and some DE friends next May… I think I'll skip the show and visit the friends in the warmer months…
That's a very nice room for entertaining – as long as the guests stay sober and nimble.