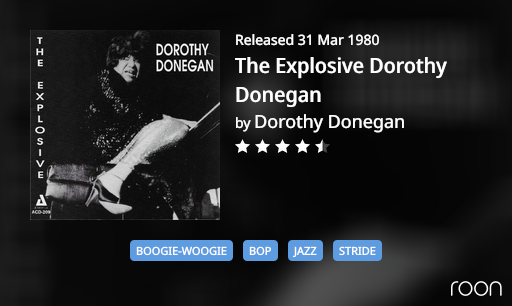 Sadly neglected.
Here, here…fan of Krzysztof, Tomasz & Enrico.

Nobody liked Billy Bean… What a pitty !

Maybe one will for Sean O'Rourke Levitt ???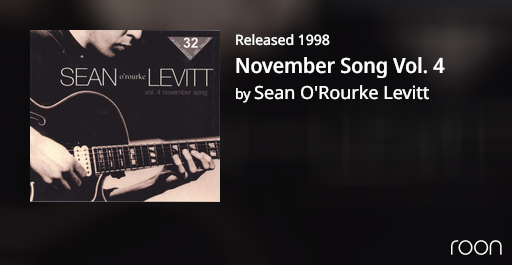 How do you like Tiziana?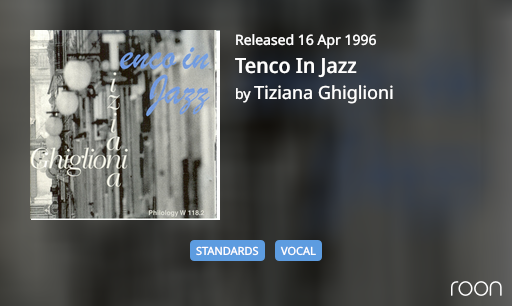 I encountered a positive review of Finnish trumpeter Verneri Pohjola's recent release in the current issue of Jazz Times. I've not heard him before, and it is a gem. Streamable on Qobuz and Tidal.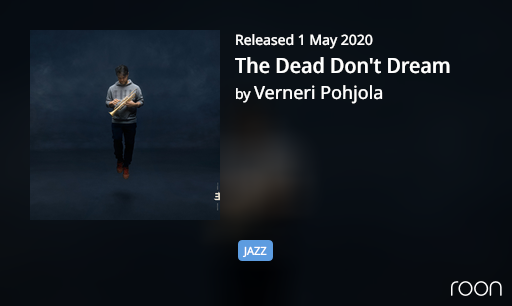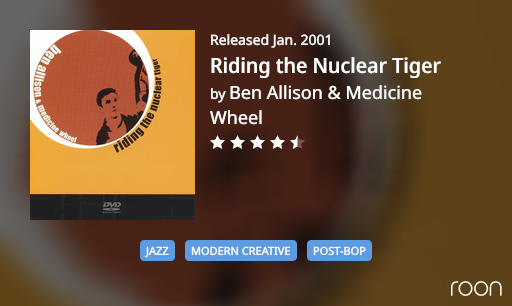 Is this hidden enough?
A gem it is imho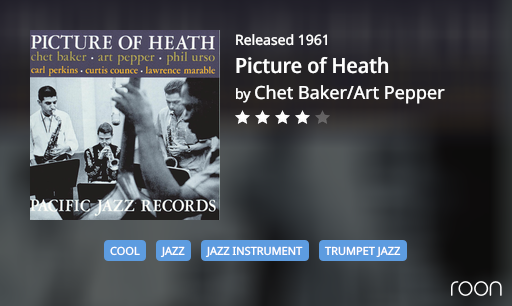 This is one of my favorite Cool/ west coast Jazz albums.
Great recommendations by all!
Now it's my turn. Here's one from one jazz's most iconic individuals, the original man from Saturn - Sun Ra. And this one is available on Tidal.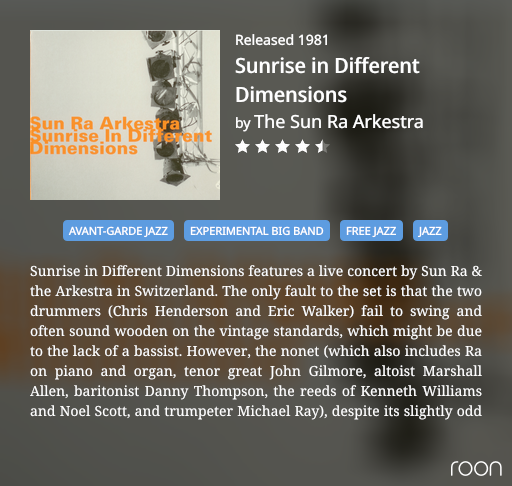 Recently the discussion turned to contemporary jazz players. This fine recording from the Art Ensemble is a nice mixture of remaining band members and the new generation including Tomeka Reed and Nicole Mitchell: "Ancient to the Future". Regrettably not on Tidal or Qobuz.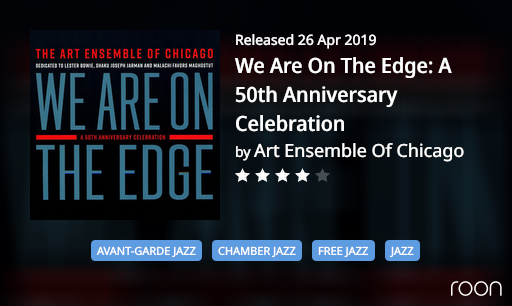 Ronnie Cuber on baritone sax had made a name for himself in the '60's, playing in the bands of George Benson, Woody Herman, Lionel Hampton, and has been sideman with many world famous artists (BillyJoel, Frank Zappa, Paul Simon). Beginning in the '90's he has recorded several well-received albums on the SteepleChase label.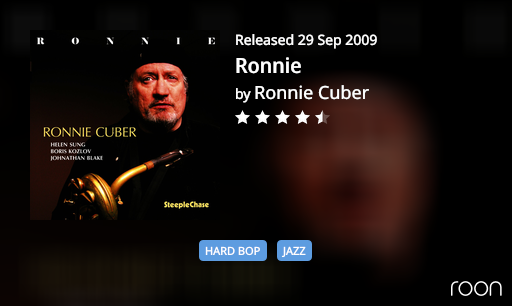 His to date last album was released last November, shortly before Ronnie's 78th birthday.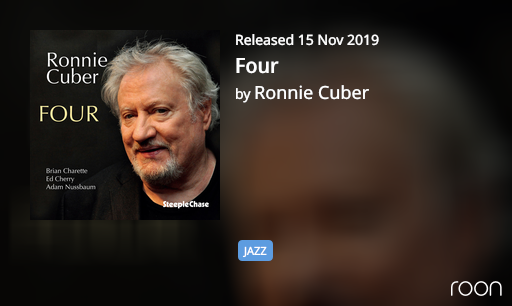 Rudy Royston is one of my favourites among contemporary drummers. I quite like his latest outing.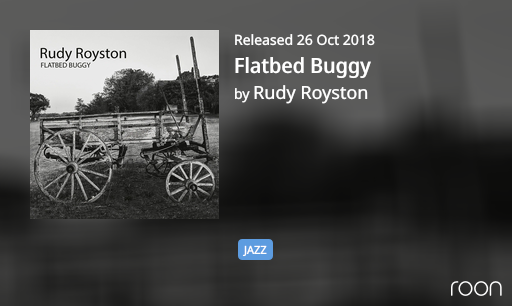 Accordion anyone?
Straddling the world of jazz, 'world music' and more, Guy Klucevesk accordionist & composer is joined on this release by a 'jazz' quartet.
Guy Klucevesk
Dancing on the Volcano (2009)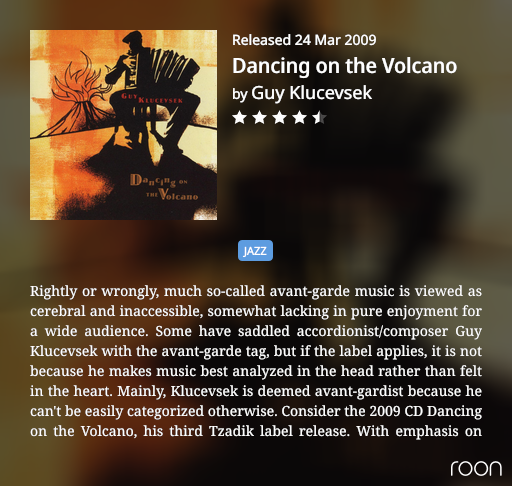 Here is a little selection of my current obsessions:
This one is a true gem. Interesting post-bop and slightly avant-garde. Make for a very relaxing listening. The LP from Analogue Production sounds wonderful.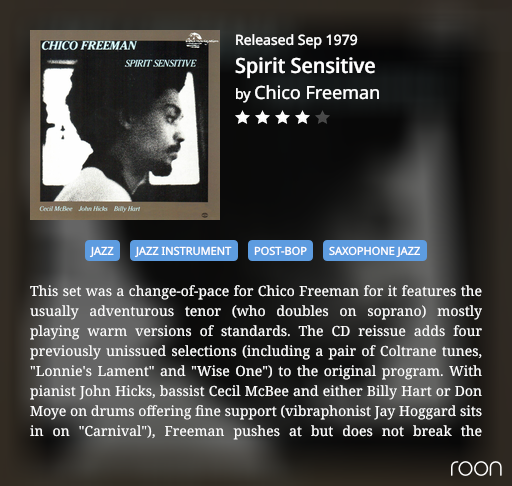 To continue on the relaxing ambiance recommended for these troubled times, this trilogy from German drummer Wolfgang Hoffner is for me a hidden gem. Deep cool groove. Very inspired reinterpretations of classics.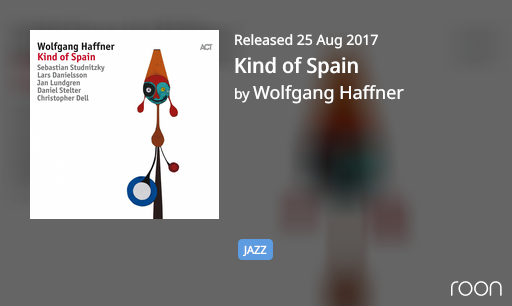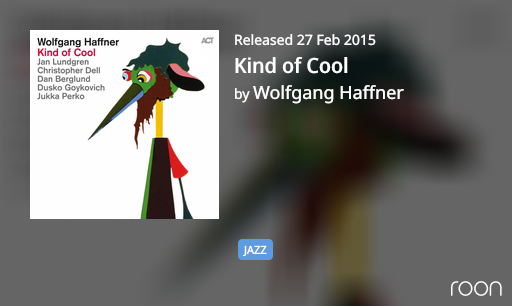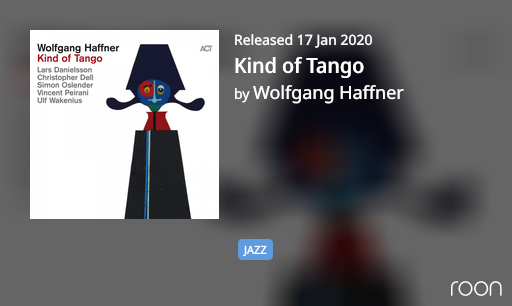 Duke Jordan also composed the music for Roger Vadim's film 'Liaisons Dangereuses' that also resulted in Monk's album with the same title.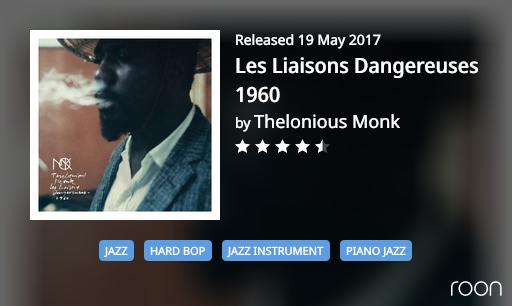 This album presents us with a rather unusual sonority in Jazz - tenor saxo, with the background of a full-fledged church organ. It was recorded in the local church of Johannes Ender's small hometown near Munich, Germany, in memoriam of his father who had passed away.
The organ and even the peal of bells give this recording certainly a contemplative and spiritual touch, and the three parts of Arvo Pärt's Trivium give it structure. It is well worth a listen, maybe late at night, to calm down after a stressful day, closing the eyes and dreaming away…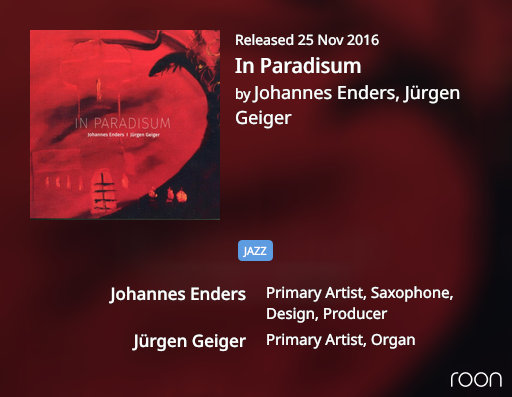 love these. Especially Spain.

This Chico recording had me thinking about some related recordings from the same time period.
A real gem from Lake with a great rhythm section and the always enjoyable Geri Allen.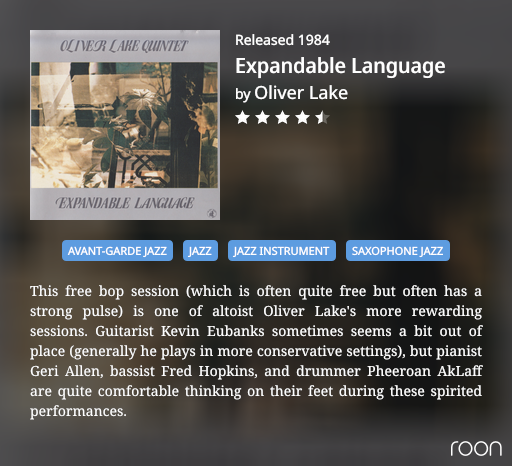 I show a version of Blythe's In The Tradition quartet several times in the old Tin Palace. A great but short lived jazz club in NYC on Bowery a few blocks east of Soho. The group I saw featured Hilton Ruiz just ripping up the standards that the group covered. Plus the Tin Palace served these great hamburgers with a very variety of toppings. It's funny the things that one remembers.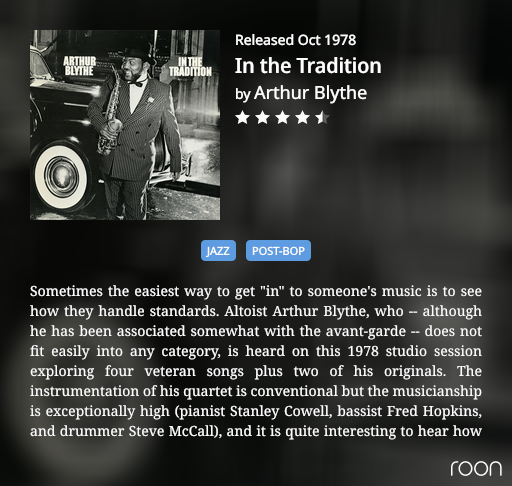 There needs to be a reassessment of Frank Lowe's work. This one is clearly one of his best.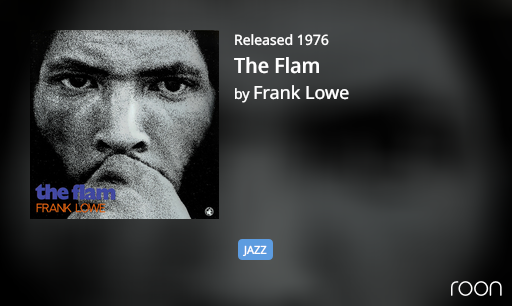 Who can keep up with this rolling playlist? So many fine recordings. This one is a regular listen for me. Most of you will know it, so maybe its not quite a hidden gem…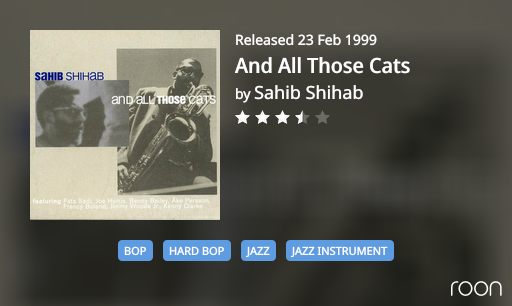 In the '70s and 80s, the Toshiko Akiyoshi-Lew Tabackin Big Band, first in its West-Coast and later in its East Coast incarnation was the big band to pay attention to.
Here's a live gig, circa 1987, of the East-Coast band