This to me is a problem . I want bit perfect .
Yep it's a big problem unless you own Bluesound kit.
Please take a minute and post to twitter to let Amazon know we care…
I doubt the Amazon developers who matter pay much attention to Twitter. And Amazon already mentioned on their customer service forum they want customer feedback from inside the app. Under your name just go to help then click on "tell us how we're doing" and send them a message.
Good idea I've done that now.
This is how much a developer's opinion matters on what gets focus: zero.
What AmazonMusic works on / engages with is entirely a marketing / strategy decision.
Twitter helps the most in this. The visibility is huge.
Even just retwiting my twit is fast and simple.
I tried this… from the app it took me to a web page, not sure if this is what you meant?
So then I got to chatting with tech service guy. He didn't get what i was saying of course and suddenly pasted a bunch of canned answers: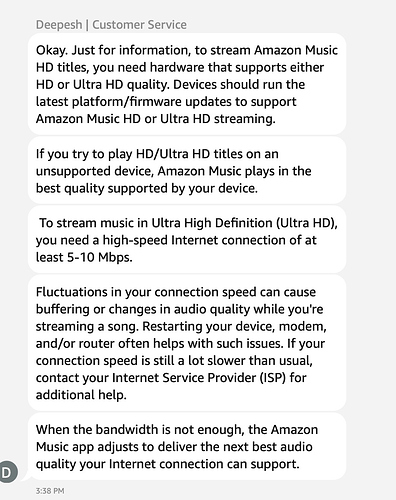 I persisted and asked him to send Roon information to the Product Team. He says he did but I kinda don't think he really did!!
Then it ended saying something about them being the most customer centric company in the world. Hmm. If you were customer-centric you wouldn't be selling my data all around town, but i guess that is a topic for another day!
I had clicked on Contact Support, i did not see "tell us how we're doing" at first.
But I went back and used that form. I do think the "tell us how we're doing" is going to the right people.
I've been anxiously awaiting Roon support for Amazon HD music. I've been exploring alternatives and found the ideal solution for me. I installed the an
Amazon Music app on my Apple TV. I stream to my Home theater processor and control the Apple TV from my iPhone with the remote app. I'm now a happy camper. The display on my tv is great and the sound perfect for my ear.
Some day maybe Roon. But happy camper now.
@David_Brown2 could you share some photos of how it looks? Does it show "HD" and "ULTRA HD" symbols ?
I know Apple TV HDMI output is limited to 48kHz but I'm more interested to know if the new lossless catalogue shows on the new Apple TV app and the UI.
This doesn't seem like an apples-to-apples comparison. If you're happy with Apple TV you don't need Roon either way. And why would you need both Tidal and Qobuz instead of Amazon?
Roon would offer better curation and information, Nucleus to gain access past 48kHZ.
I agree. I also decided that I can't hear the difference between 16/48 and 24/96 in my room with my system. I just wish the Amazon app had a better interface.
@David_Brown2 what do you see on this album page? Can you show a pic
Basically what you see, but nowhere does it tell you if it's HD or Ultra HD.
So the Apple TV app might not offer the new lossless (CD quality or better) streaming tier then.
It might currently be their lossy tier…
If their Apple TV app is streaming lossy and you like the SQ, Spotify just released their Apple TV app a few days ago. Might have a better UI.
Haven't tried myself yet.