Great product ,performs and measures well.
I'm not sure what's terribly new about that device.
Linkplay is apparently an excellent piece of software and has been adopted by quite a few manufacturers of portable speakers, it's in perhaps 40 or 50 products by now. It's been around quite few years and saves those companies the cost of designing their own software, just as the likes of Devialet (which I use) and others decided it was easier to go Roon Ready than build their own world class app. No surprises there.
I started using Amazon HD up to 24/192 wirelessly throughout much of my house about a year ago and it drove me mad, especially with Alexa, although for everything else I like Alexa a lot. Even without Alexa, the app was just horrible, especially for classical. It does work very well for popular music and, I found, nursery songs. So it knows its market. Thankfully after a few months my system went Roon Ready and I cancelled my Amazon HD subscription and breathed a sigh of relief.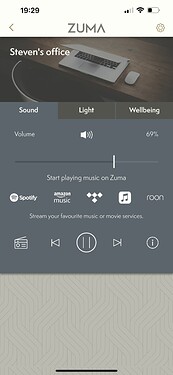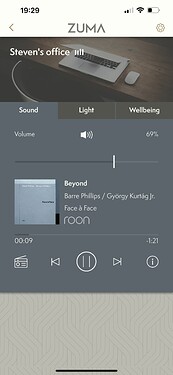 I doubt these Chi-fi companies making budget stuff will ever implement Roon because of the software effort and their business models, to contract out manufacture and do everything at minimal cost. I doubt many of their customers would pay for a Roon subscription anyway.
The bit perfect part and casting direct from Amazon app part, that I wrote…
ie no need for any Alexa voice commands… but you can if you like.
Not possible with any other device…
That's what I I was doing. I can still do it, just not at high res with Amazon as I cancelled my Amazon Unlimited subscription. I can send to the same devices using Roon at 24/192 and I much prefer Roon anyway. Bought this system in May last year.
Your screenshot isn't showing me that you can cast from the Amazon Music app directly.
And no evidence of bit perfect 24/192.
A few people have said they can do this but when digging further they were using a 3rd party UI or everything was output at fixed sample rate (ie not bit perfect)
If you watch the video carefully you can see on the DAC, sample rates changing correctly.
I think you will find that the WiiM Mini has a Linkplay A97 board inside (and not much else). The app sends your wifi details to the WiiM, which then connects to your network. Your phone is not casting 24/192 to the WiiM, the WiiM is pulling it from your home wifi network. Amazon will be programmed into the onboard hardware.
That is how it works.
Mine the same. So whether my units are being told to stream from Amazon or Roon, it is the device that is pulling the data from the wifi network. Hence two screenshots showed Roon in the player app and at the same time Roon saying it is streaming at 24/192 (wirelessly, as the units are not wired).
The WiiM is a third party OEM board in a box. In my devices the entire thing, hardware and software, was designed in-house, nothing OEM, which I think is usual for Roon Ready products.
It is using 'Alexa Cast' - hence my use of the term 'casting'.
I'm not sure why you showed Roon playing 24/192? I've been a Roon member since 2016… This discussion and entire thread is about Amazon UHD.
Would be great if you could show a Amazon app screenshot casting to your endpoint. And a 24/96 album playing at 24/96 on your DAC - like the video shows.
I don't think your device can.
Alexa Cast does not cast music. Here is a description from pocket-lint:
What is Alexa Cast?*
*Alexa Cast is a wireless casting protocol that will enable control and playback of Amazon Music on compatible devices.
Casting sends the control signal from your phone to the speaker you want to play the music on - your Amazon Echo. That Amazon Echo then collects the Amazon Music stream from the cloud and starts playing it.
The phone can then then be used to control - play, pause, skip - the music, as well as letting you browse music in the Amazon Music app and choose new music to play.
Importantly, you're not sending the music from your phone to the speaker. If you turn your phone off, leave the house or take a call, this won't be routed through your Echo like it would with Bluetooth. That's the advantage of casting over Bluetooth - the end device is collecting the stream directly.
Only to show that the device I was sending to operates at 24/192. Quite a lot of wireless speaker systems operate below that. I'm not paying £11 for a month Amazon HD to prove to you something I already know.
This WiiM Mini is good because it's small and cheap, but it basically does the same as the Bluesound Node, which was probably the first non-Amazon device to host Amazon Music. I had one and 4 years ago. There are probably other things. The devices in my house operate in exactly the same way.
If you look at Content Provider Integration — Linkplay Technology, you will see that they will build in any content you want. This is very useful because different services have different coverage. So if you were making a product for Africa, you would include Deezer, Spotify and possibly Tidal, but there is no Amazon Music anywhere in Africa, so you would not include it.
@dabassgoesboomboom Thanks for mentioning the WiiM Mini streamer! I checked it out after seeing your comment and bought one and got it hooked up yesterday - extremely impressed with it. Originally was going to buy the Bluesound Node, but this thing… wow, and so cheap. It sounds amazing, and its such a little device. Really hope they add integrated Roon and Sirius XM to it, but casting to it from my phone works really well (including as an Airplay endpoint for Roon). Not sure I really need/want the Node now after having this.
This proves you are not following
I have a Node and WiiM Mini and Amazon UHD
I don't think you have any of the 3 but your comment is 100% wrong
It have a Mojo 2 and can see how this would be great for desktop use. It's a killer price.
It will never be Roon Ready because it uses a pre-loaded OEM board and anyway Roon would never certify a board as opposed to a product.
I've compared Roon via Airplay with Roon Ready onboard. There was a big gap in sound quality. If you're happy with Amazon and their player app, this product is a no-brainer.
I used a Bluesound Node for 2 or 3 years, plus when it had Amazon Music and I used it on that.
I subscribed to Amazon UHD for 9 months as I have it in my house - mainly on Zuma devices - I can play it on over 30 devices that have Amazon Music onboard.
I know a little bit about this. My son is a product designer and worked at Zuma for 2 years and as an early adopter of the product (mainly as it is also a lighting system) I had a lot of back and forth with their technical people.
Please do an experiment. Switch off your wifi, use your phone on broadband and tell me if you can successfully get music out of the WiiM.
p.s. Even Darko explains this:
The app auto-detects the Mini and scans for nearby wi-fi networks. We give the app our wi-fi's login credentials and it injects them into the Mini (over the air). The Mini then uses those credentials to connect to our wifi network.
Darko says he doesn't like the WiiM app to the extent that he preferred to use Airplay. I can understand how he feels given how Amazon app works, obviously he doesn't bother with high definition.
Everything you said is out dated.
The WiiM firmware for hi-res Alexa Casting came out a few weeks ago, months after the Darko article. So the Darko article is irrelevant
I have a Bluesound Node right now and you had one years ago? To say the WiiM does the same with Amazon Music UHD is completely wrong and out dated.
Look at the date…
No other streamer can do this - not even the Bluesound Node I have right now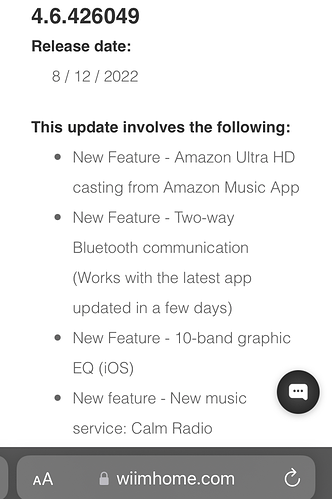 Chord has an accessory attachment streamer for the Mojo called Poly that is Roon Ready. It is smaller than a Mojo but costs more than the Mojo itself!
Literally everything you write is wrong.
Are you affiliated with Zuma? Other than your son's employment with them?
From Amazon, who also refer to it as casting music… and yes your phone can switch off but who cares? It goes through the "Alexa Cast" certification by Amazon, which WiiM Mini is now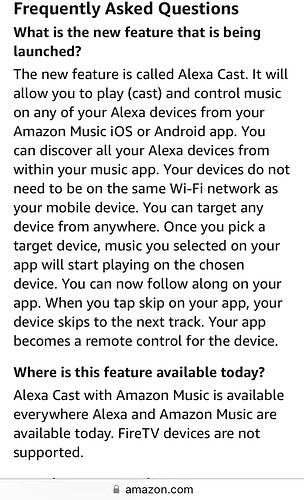 The Poly makes sense for home use, not if mainly for travelling. I just attach my phone, as it has good battery life.
Mojo/Poly is a great piece of audio design.
Isn't this all rather academic?
I bought a Devialet Expert in 2016 and it has Devialet Air, which is Devialet's own 24/192 wireless protocol, that runs on Windows and Apple OSX devices. It was their preferred data source and I used it quite a lot. I think it was released 2 or 3 years earlier, so wireless 24/192 has been around for at least 8 or 9 years.
I now read that the 24/192 capability seems more about being able to get it to come through the optical toslink output, and was achieved after release and implemented by a software update.
They also say they are working on Roon. I see WiiM is part of LinkPlay, so the card is not an OEM and so Roon Certification may well be on the cards.
Optical is of course a great option.
This did look like a great product, obviously for Amazon Unlimited, but is looking better, primarily for the price and size. I still don't see it doing anything new, just more of the same at a great price and super-small form factor.
This discussion (you replied to me) has nothing to do with being able to reach 24/192 with Amazon UHD… now it makes sense why none of your posts make sense.
The crux is bit perfect from the Amazon Music app… For the second time, this means if the album is 24/96, then this is what you see on your DAC…
Ok so now that you've finally caught up to 2022, everything you previously wrote is irrelevant.
Back to the original point - WiiM Mini is the first device to support bit perfect up to 24/192, Alexa Casting direct from Amazon's iOS/Android app to WiiM Mini - no voice commands required.
What a big circle we've done.
Because you don't understand anything discussed here and you don't have any of the devices to test current firmware. You are only going from old memories and googling (old information).
Watch the video and look carefully
You have never been able to do this with any of your devices.
Here's a little graphic from the WiiM website that gives a clue where music comes from: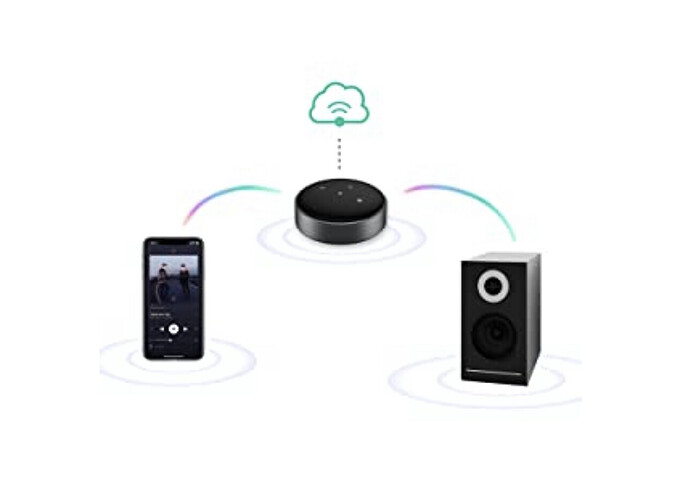 I have Alexa Cast here (page 1 of 3):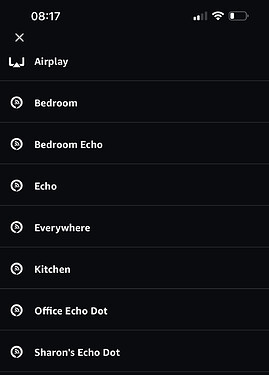 I just don't use it because Roon is so much better. Like Darko, I preferred to use Airplay, like @timmo above does. He'll be the happiest person on the planet if it goes Roon Ready.
As for my memory, when you get to 87 you can't remember what you had for breakfast.
I mentioned 'casting' (Alex Cast - which you said does not support music, based on very old info) and you went on a tangent about where music comes from. I honestly don't care where it comes from.
WiiM Mini is a certified Alexa Cast device, whether you agree or not.
You've completely lost sight of the original discussion unfortunately.
Anyway, good to see you're enjoying the music.